Solar Splash team perseveres at world championship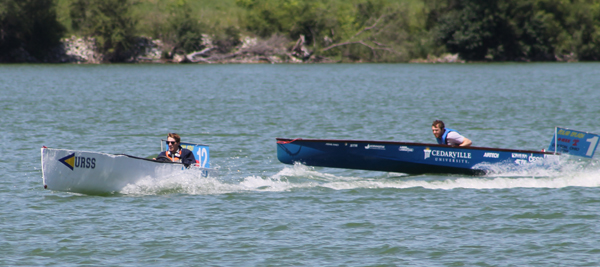 ​
(During the first sprint heat, U of R got off the line quicker than World Champion Cedarville; narrowly missing a T-Bone collision as the Cedarville Boat lost control due to hitting U of R's wake​.)

What do you do when your boat springs a leak 45 minutes before a competition?
Improvise!
Members of the University of Rochester Solar Splash team did just that recently at the World Championships of solar/electric boating in Dayton, Ohio.
"When we first put the boat in, a lot of water was coming in," said rising sophomore Edward Ruppel. "It would have sunk," added Steven Tau, rising junior.

So team members, including Kelly Chang, a rising sophomore, placed about three pounds of epoxy and lots of expandable foam in key spots to seal the bottom. Ruppel borrowed an oil seal from another team, cut off the end of a caulk gun and tie wrapped it around the drive shaft log/stuffing box to seal off water entering there.
    The repairs worked, the team managed to finish seventh overall among the 10 teams entered – and it received the Perseverance Award. Not to mention two second-place finishes for outstanding technical report and visual display. "Our students were excellent ambassadors for the U of R," said co-adviser Scott Russell, a Senior Technical Associate in the Department of Mechanical Engineering who accompanied the team to Dayton. (Stephen J. Burns, Professor of Mechanical Engineering and of Materials Science, is the team's faculty advisor.)
    It was all good experience for a young team looking to build its membership this coming school year.
    The Solar Splash program, sponsored by IEEE and the Power Electronics Society, with support from the American Society of Mechanical Engineers, challenges teams of college students to design and build solar-powered boats that can compete in three key events: endurance, sprint and slalom.
       "You can't make just a speed boat or just a battleship," Ruppel said. "You have to come to a happy medium. It's very hard to make something simple," he added. "It's very easy to overcomplicate this boat, and once you overcomplicate it, it will just sink."
      With Tau, Ruppel and Chang all planning to remain on the team, a key goal this school year will be to attract – and retain – additional students, so there will be a core of experienced team members to carry on when seniors graduate. That's been a problem in the past; this school year, for example, there was no carryover of members from previous years. Team members were pretty much starting fresh. Though as many as five to seven students at a time helped out at various points during the school year, Tau, Ruppel and Chang were the core members.
     This fall, they'll make the same pitch to incoming students as the UR's Baja SAE Team, which builds an off-road vehicle for competition: This is a great opportunity to gain hands-on engineering experience. And not just in designing and building a boat, but in the nitty-gritty of planning for competition, making deadlines, and getting the boat there safely.
    Who are they looking for?
     "Those who are really passionate about building something, and making it their own, are the ones who will stick around and really get the most out of the club ," Tau said.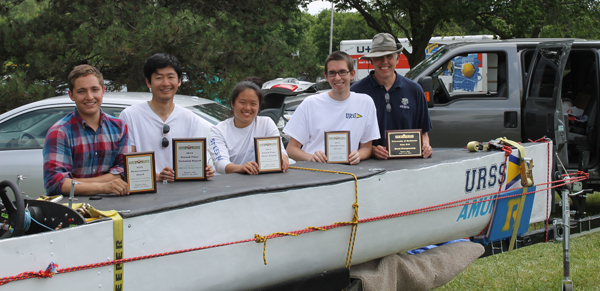 (The University of Rochester Team posing with the awards won and the URSS AMUN-RA​​​​. From left to right; Edward Ruppel ('17 BME), Steven Tau ('16 ChemE), Kelly Chang ('17 MechE), Aidan Russell, Scott Russell​. The UR's Solar Splash boat is 17 ½ feet long with rudder, and weighs 700 to 800 pounds with a skipper aboard.)