One of the muddiest Mayhems ever for Baja team
Each year our Baja SAE team designs and builds an off-road vehicle to compete against other college teams. Recently, 27 members traveled to Bedford, Kentucky, to participate with teams from 48 other schools in the Midnight Mayhem endurance race and associated dynamic events, hosted by the University of Louisville Baja SAE.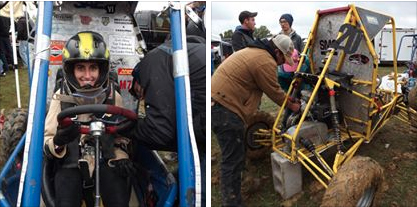 Despite the inclement weather, which made this one of the muddiest Mayhems ever, it was a great opportunity to provide 10 new recruits with actual experience at an event in preparation for the official competitions next spring.
"Each and every attending recruit played an active role in participating and learning at the event," reported team president Alycia Abbott '16 of Biomedical Engineering. "Due to weather and track conditions, racing was severely impeded, but every new recruit who wanted to drive the car in an event was able to do so."
The participants included seven females, four recent alumni, students majoring in MechE, ChemE, ECE and BME, and two students majoring in economics or business – in line with the team's goal of developing a successful business model.
The unofficial event is unique in being the only Baja SAE competition held on a lit track at night.