Baja SAE team overcomes setbacks to finish in top 30 at Auburn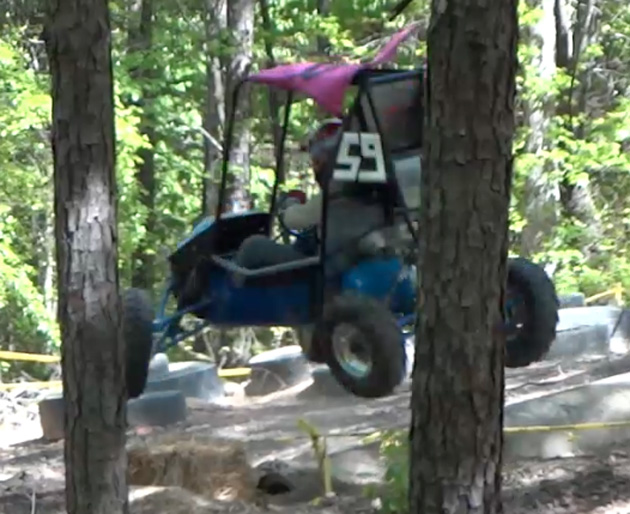 Nick Van Swol heads down the Suspension and Traction course at the SAE Baja national competition at Auburn, Ala.
With an impressive "war cry," Nick Van Swol started his team's all-terrain vehicle down an obstacle-strewn course in Auburn, Ala., recently – and almost immediately ran out of bounds.
Undeterred, Nick returned later that afternoon, and with an even more impressive war cry not only finished the course but placed 26th among 100 teams competing in the event.
That ability to rebound from setbacks –- and there were plenty of them --  helped propel the UR SAE Baja team to a top 30 finish at the national competition in Auburn, Ala.
All 22 team members played an active role in the team's success, said faculty advisor Sheryl Gracewski.
"I am very impressed with the team's organization and with how well this team works together," she said.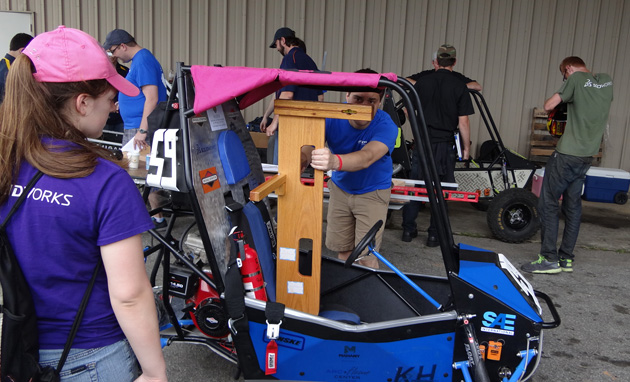 Vehicles must pass a rigorous technical inspection before entering competition.
The four-day competition, which drew 100 teams from universities across the U.S. and from Mexico and India, included;
"static" events, including a sales pitch, cost  audit and design competition on the first two days.
a rigorous technical inspection 
"dynamic" events, including suspension and traction, hill climb, maneuverability,  and acceleration tests on Saturday, and a four-hour endurance race on Sunday.
Last-minute glitches and unexpected delays are the norm at these competitions, and Auburn was no exception. The UR Team's cost audit, for example, was interrupted by storm warnings, during which team members spent a few hours "sheltering in place" in the team's truck and vans. Despite the distractions, the UR team finished 17th and 26th in the cost and design categories, respectively.
The team could have passed the technical inspection the first time through – except there wasn't enough clearance between the roll cage and the helmet worn by one of the drivers, James Powers. With some help from the RIT Baja team, two bars were bent, so that only minor modifications were needed.
Then the engine had to be replaced, delaying the team's entry in the dynamic events on Saturday. Even so, drivers Nick Van Swol, Michael Myers, James Powers and Alycia Abbott were able to complete the maximum of two trials at each event just before the closing. The team placed 26th in Suspension and Traction, in the top 50 in both Hill Climb and Maneuverability, and 73rd in Acceleration.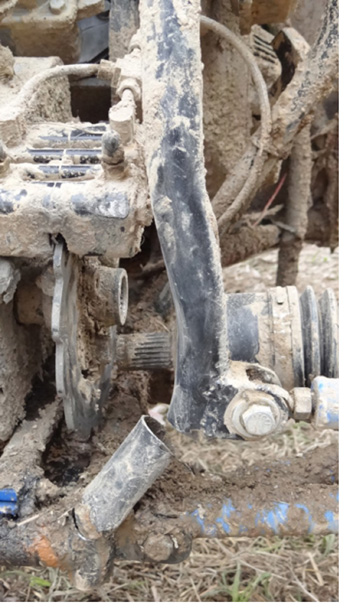 Drivers James Powers and Connor Haddix kept the UR car in 14th place through much of the grueling 4-hour Endurance Race on the final day. However, about three hours in -- during a pit stop to fix a fuel line problem  -- the team discovered that the rear bracing of the frame was bending. The control arms were adjusted to straighten the rear wheels as far as possible, which allowed the car to complete a few more laps before the frame broke.
Despite exiting the race about 30 minutes early, the team still secured 31th place as the rugged course caused several other cars to break down as well.
Overall, the team finished 29th. Congratulations to all the team members who  attended the competition: Alan Grier '17 Mechanical Engineering, Alycia Abbott '16 Biomedical Engineering, Berto Perez '15 MechE, Chris Plunkett '16 BME, Conner Haddix '16 MechE, David Gonzalez '16 Electrical and Computer Engineering, Florence Yip '17 MechE, Gilead Biggie '18 Engineering Science, Hannah Middleswart '17 Chemical Engineering, Harel Biggie '18 ECE, Helen Yu '15 Financial economics, James Powers '15 MechE, Kevin Bonko '17 MechE, Laurence Lohman '17 ChemE, Luis Martinez '16 MechE, Matt Isbell '16 MechE, Michael Myers '16 MechE, Nick Van Swol '15 Computer Science/MechE, Peter Fiala '16 Optical Engineering, Shephan Chauvin (graduate student) MechE, Wendy Snyder '17 MechE, and Yaron Adar (KEY) BME.
Team members will be repairing the rear frame in hopes of placing even higher in their next SAE Baja competition, to be held at the end of this month in Oregon.
A variety of skills -- in business and artistic design, for example, in addition to engineering skills in ergonomics and mechanical design  -- are important to the team's success. New members are always welcome! Click here  to learn more.

By the end of the competition, it was clear that the vehicle and its team had been thoroughly tested!