Solar Splash launches USEED crowdfunding platform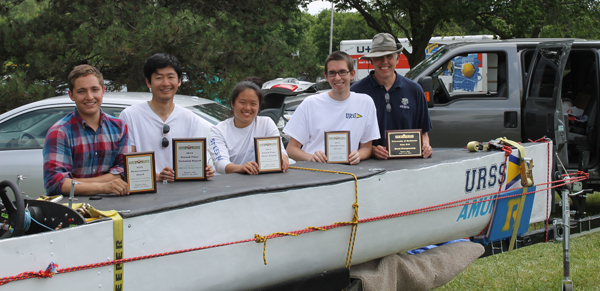 (Solar Splash team posing with awards won at last year's World Championship.)
Solar Splash team members are launching more than their solar-powered boat this spring; they're also the first Hajim School student organization to launch a USEED crowd-funding platform.

 The group is hoping to raise $5,000 by June 31 to pay for new, more efficient solar panels to improve the boat's performance in endurance races; reinforcers, such as epoxies and fiberglass, among other materials, to strengthen the hull and maximize the durability of the boat, and safety equipment such as respirators and protective suits to ensure the safety of club members while constructing and using the boat.
This will ensure the boat is in prime condition for the Solar Splash World Championships in Dayton, Ohio, next month. Click here to visit the group's USEED platform.
"We are trying to raise for funds so that our club can give aspiring engineers here at the University of Rochester a PHYSICAL approach to engineering, something they can build," said Solar Splash president Edward Ruppel, "We find that it is super important that what you learn in the classroom should be supplemented by 'getting your hands dirty' in the shop. What better way to learn and discover engineer by doing engineering?"
Hajim School Dean Rob Clark has praised USEED for working closely with student groups to help them prepare well-organized campaigns, which serves as a useful educational experience in itself. The school is hoping to involve other student projects and teams next semester.
"It's really well organized," Ruppel said of his group's experience with USEED. "Other platform sites just throw you into the caldron. USEED coaches you through the entire thing. "
"They have good structures of what you need to do, when you need to do it, and how it should be done," added Matt Dombroski, Solar Splash vice president.
"That's why they have such a high success rate," Ruppel said.
To learn more about the Solar Splash campaign, visit their USEED website.