MechE hires bolster teaching, research programs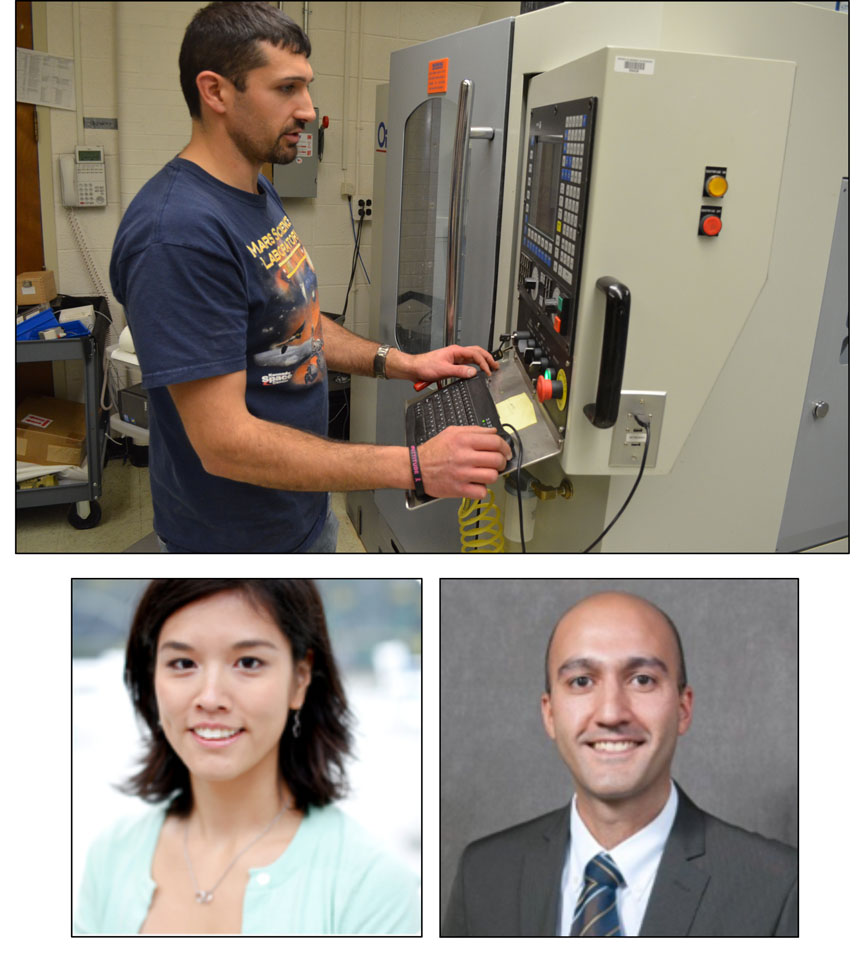 Michael Pomerantz, top, and Hesam Askari joined the Department of Mechanical Engineering on Jan. 1; Jessica Shang will arrive this summer.
Hesam Askari, who joined the faculty Jan. 1 as an assistant professor primarily in a teaching role, will help the department handle its burgeoning enrollment by teaching four courses a year. His expertise in deformation of materials, particularly the behavior of granular materials, could also lead to research proposals and collaborations.
Michael Pomerantz, who joined the department Jan. 1 as Technical Associate, will apply nearly 20 years of industry experience to bringing on line and maintaining high precision equipment in the department's Optics Fabrication lab and the Hopkins Center in the Institute of Optics. This will give undergraduate students an additional resource for a variety of senior design and other course- and research-related projects.
And when Jessica Shang joins the department later this summer as an assistant professor, she will bring research expertise in experimental fluid mechanics, which will nicely complement the fluid work being done in the department by Douglas Kelley, Hussein Aluie, Riccardo Betti and Chuang Ren.
"In a very short time we have created a very nice critical mass of fluid mechanics among both senior and junior faculty members, which will make it that much easier to attract top graduate students in that field," said department chair John Lambropoulos.
Here's a closer look at each:
Hesam Askari
 Askari comes to the University of Rochester from MIT, where he was a postdoctoral associate with a research emphasis on the theory of mobility in granular media.
This involves materials like sand, whose individual grains are solid but often behave more like fluids as a group.
"These are very difficult problems to address," Lambropoulos said.  "They combine the processes of solid components but also exhibit flow and yield and shear."
For now, Askari joins the department as a non-tenure track assistant professor, responsible primarily for teaching. He will teach two classes a semester, one at the undergraduate level, and the other at the graduate level.
This semester, for example, he is teaching heat transfer to undergraduates, and finite elements to upperclassmen and grad students.
Nonetheless, Lambropoulos said any research proposals from Askari would be welcomed.
Askari worked as a mechanical equipment designer for Pars Sanat and was lead mechanical engineer for CEMAG Middle East while earning bachelor's and masters degrees from the Iran University of Science and Technology. He received his PhD in Mechanical Engineering in 2014 from Washington State University, where he led a research team in solid mechanics and integrated computational material engineering.
"He's a mature young scientist," Lambropoulos said. "His work fits our department needs, both in terms of research and teaching, very nicely."
Jessica Shang
Shang is completing her postdoctoral work at Stanford University. She is working with a team in Assoc. Prof. Alison Marsden's lab that uses multi-scale modeling and optimization to design and test novel surgical approaches for treatment of single-ventricle congenital heart defects – one of the most daunting challenges faced by pediatric surgeons.
Shang, who received her PhD from Princeton University last spring, is an expert in experimental fluid mechanics. This involves the interaction of flexible surfaces with the fluids around them -- for example, the way a jellyfish or other biological organism can conform its shape to navigate through ocean currents.
The potential applications of this kind of research are widespread: The military, for example, is continually looking for new types of flexible material for submersibles or aircraft that would reduce the echo created by radar.
Fluid dynamics also come into play in the study of aneurysms and other biomedical challenges, in trying to understand what causes flexible blood vessels to rupture, for example.
Lambropoulos said Shang's application was "terrific," her recommendation letters were "superb" and she has a good publication record.
With her addition, the department will now have faculty members whose expertise "covers a broad range from computational fluids to experimental fluids and everything in between," Lambropoulos said.
 "This is a very nice situation."
Michael Pomerantz
Two high-end optical manufacturing platforms are coming to life in Gavett Hall, thanks to the skillful attention of Michael Pomerantz.
Pomerantz, who has nearly 20 years of experience as a process engineer with Optimax Systems Inc. in nearby Ontario, New York, joins the department as a Technical Associate with a joint appointment in The Institute of Optics.
 The two pieces of equipment – an OptiPro Ultraform UFF and an Optipro SX50 used for grinding and polishing high-precision optical surfaces – were a gift from the local company of the same name.
However, Lambropoulos explained, he first needed to find a technician with just the right qualifications and experience with the costly, sophisticated equipment, in order to make it operational and then maintain it for the use by undergraduate students.
Pomerantz "fit the bill perfectly," Lambropoulos said.
 "With our increasing enrollments, we've had increasing requests from undergraduate students who want to do things related to manufacturing, especially optical manufacturing projects since we do a lot of research in that area," he added.  "And we've also had a need for more technical staff to help with undergrad labs, plus a specific need to hire somebody to do optical manufacturing for undergraduate summer projects, research projects and course-related projects."
"So this is very exciting."
Pomerantz will also work with Prof. Jannick Rolland, director of the Robert Hopkins Center for Optical Design and Engineering at the Institute of Optics, in supervising students and projects on some of the sophisticated equipment in her center.
"This will help bring the optics and mechanical engineering programs in this area closer and we will now have a fully functioning optical manufacturing facility on campus," Lambropoulos said.