CAREER award helps Kelley explore liquid metal batteries that could power a city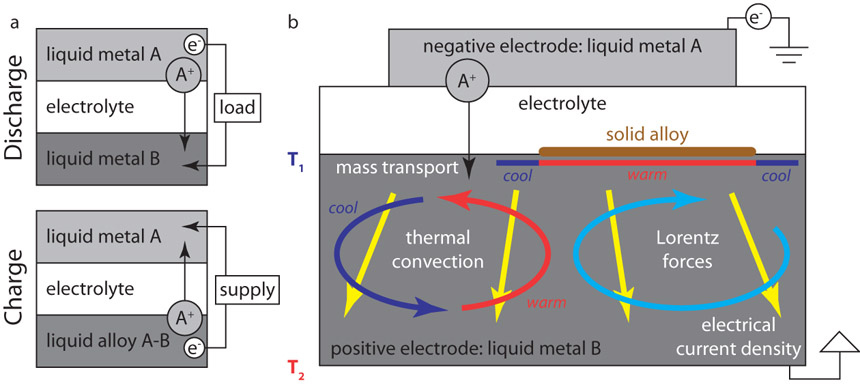 This illustration shows the operation of a liquid metal battery and the processes at play.
Young faculty members get only three chances to apply for a CAREER award from the National Science Foundation.
As it turns out, Douglas Kelley needed only one.

 The assistant professor of Mechanical Engineering secured the NSF's most prestigious award for beginning investigators on his first try – with perfect scores from the reviewers, no less.
"The program manager was kind enough to send me an email ahead of time saying he would recommend it," Kelley related. "I remember getting the email on a Friday afternoon. I screamed out loud."
 Kelley, whose expertise is in fluid dynamics, says "one of the core challenges, and maybe the biggest challenge of our time, is to learn to live sustainably" by developing reliable sources of alternative energy.
The five-year, $500,000 CAREER award will further Kelley's research on the use of liquid metal batteries as a "technology that could absolutely disrupt how the world's power grids work – and I mean 'disrupt' in a positive, innovative sense.
"We want our energy grids to be stable, but to keep them stable with lots of intermittent wind and solar generation, you will also need stored energy that can charge and discharge seamlessly on the grid to ensure efficient operation."
One current approach to providing energy storage on that scale is to fill shipping containers with thousands of liquid metal batteries the size of coffee cups, and create stacks of containers bigger than a house, "because that's what it takes to store enough energy for neighborhoods and cities," Kelley said.
Kelley will use his CAREER award to study how the flow of fluids in those liquid metal batteries affects their performance.
"In our lab we can make quite detailed measures of what the flow is doing in a battery by using ultrasound," Kelley noted. "But when these things are operating in the field, it's not in the budget to put an ultrasound transducer on every single battery; it would be too expensive."
Kelley hopes to create mathematical models, based on detailed measurements taken in the lab, which could then be used to predict battery efficiency and stability in the field, based solely upon what an operator would know: how much current is running, the amount of charge, the temperature.
"The other big aspect of this is to know if and how solids are forming inside liquid batteries," Kelley added. "That can cause an electrical short across the battery internally, and it would no longer be usable."
Currently, it is easier to prevent solids from forming when liquid batteries are kept the size of coffee cups.
 "I think the mixing work we're doing could explain that and enable larger cells," Kelley said. "Larger is nicer because you don't have to spend as much money on all those cases."
(Kelley's CAREER award will support the equivalent of 1.5 PhD students a year to work on the liquid metal battery project in his lab.  Students interested in applying can contact him at d.h.kelley@rochester.edu Click here to see his research website.)