Course management keeps champion skier, biker on his chosen path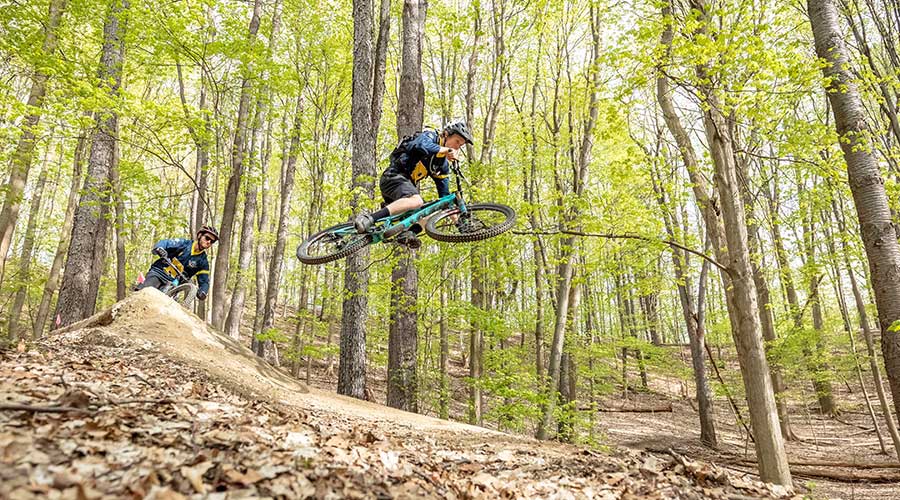 Nil Kingston '21 can thread a mountain bike down a rock- and root-strewn trail with the best of them.
Earlier this month the University of Rochester mechanical engineering major finished in the top 10 in two very different events at a collegiate mountain bike national championship—a 4-minute downhill race that puts a premium on technical skills at speeds up to 30 mph, and a 30- to 40-second dual slalom event that is basically a head to head, all-out speed sprint against another biker on a parallel course.
This, despite dusty, drought-induced, "loose" trails at Bear Lake, CA, that were far more unpredictable than anything he had encountered during training in Rochester.
On skis, he is equally adept at finding the best angles to attack a snow-covered slope. He's won collegiate national ski championships in dual slalom each of the last two winters.

Kingston, who is from Norwich, VT, has also done a good job of "course management" at the University.
Described by Professor Laura Slane as an "excellent, high-achieving" student and teaching assistant, Kingston is able to keep up with a demanding engineering curriculum, and still find time to pursue his passion for outdoor sports.
"During the weekdays I know I have to focus (on classwork) because I'm going to be gone Friday through Sunday biking or skiing," Kingston says. "So, Friday to Sunday I don't have to think about school, and I can do something totally different. And when I come back on Monday, I'm ready to sit down and work again." 
Kingston says he learned how to manage his time—and juggle multiple commitments—thanks to the flexibility of the public high school he attended.
The school allowed him and other members of the ski team to modify their schedules so they wouldn't have classes afternoon classes during second and third quarters. That way they could make the most of limited afternoon daylight during the winter months for practicing. But it meant Kingston had to keep up with his math studies on his own.
"It was up to myself to find the resources I needed to stay on top of the textbook, but I mostly taught myself," Kingston says.  "And I'd also miss a lot of school for competitions, so I think from an earlier age than most people I had that sense of responsibility do things myself when I could. Time management was big. It wasn't easy at first, but I had an opportunity to figure that out earlier than most people do."
After high school, he took a gap year. "It was actually my parents who recommended it," Kingston says. "They're super supportive. It was one of the things my dad wished he had done."
Kingston spent the first half of the year "living in his car" while mountain biking in Colorado.
Then he worked at a couple of farms in New Zealand with a sustainability focus. "I think that's really where I started to catch on that sustainable engineering was something I was interested in.," Kingston says. "I spent the year surrounded by like-minded individuals determined to do their part in protecting our world."
At the advice of his high school guidance counselor, he put the University of Rochester at the top of his college list. "I didn't want to go to a school with only engineers; I wanted that mix of people doing different things, and an opportunity to try other subjects even if they're not in my major," he says.  The University's open curriculum offered him the freedom to explore. "And I knew if I wanted to switch paths entirely, that option was there." 
As it turns out, mechanical engineering has been a good fit for him and his goal of eventually working "at a company with a green initiative so that I can do my part."
In the meantime, Kingston will continue to push himself in the classroom—and on the bike trails and ski slopes.  "I just like being outdoors" and the "hint of danger" that comes with competing at the highest levels, he says.
"I definitely like the adrenalin."