Overview

Chemical engineering is at the heart of all manufactured goods. The Department of Chemical Engineering at the University of Rochester develops technologies, materials, and processes that benefit society in the areas of clean energy, sustainable process engineering, nanotechnology, and human health. The department was established in 1915 as one of the first chemical engineering programs in the country and has a storied history. Contributions from Rochester faculty, students, and alumni have had global impact. We specialize in applying chemical engineering to materials science and artificial intelligence to solve the grand challenges of the 21st century.
We provide a vibrant learning and working environment. We foster a sense of collective efficacy among our faculty and share the belief that, together, we can make a difference in the lives of our students and society. We maintain an atmosphere of diversity, equity and inclusion, academic integrity, and respect as a way of life.
We offer a first-class engineering education. Students learn how to apply fundamental engineering and scientific principles to design processes for the production, transformation and transport of energy, chemicals and materials. We provide training in emerging technologies and computer programming to tackle humanity's major challenges, with the aim to develop the next generation of leaders in chemical engineering. We leverage our strong relationships to industry and academic leaders to create a talent pipeline for a modern workforce. Past graduates of our program have quickly found employment in a wide variety of industries, S&P 500 companies, government positions, and universities. We maintain close professional connections to our alumni, which benefit our current and future students.
Research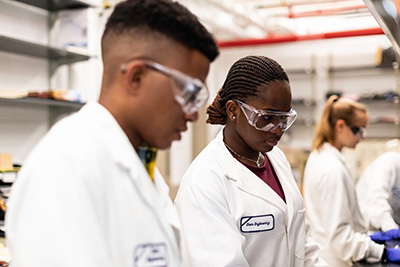 Our faculty and students conduct research at the forefront of modern chemical engineering. Our prime research strengths are advanced materials, catalysis and electrocatalysis, batteries, biological and medical systems, computational fluid dynamics, functional interfaces, optical materials, and theory, simulations and artificial intelligence.
We are collaborative and collegial. Students benefit from close interaction with our faculty. Many of our faculty hold affiliations in other departments to foster interdisciplinary research and sharing of ideas; we truly enjoy working together. We have strong ongoing collaborations with the University of Rochester School of Medicine and Dentistry, the Goergen Institute for Data Science, the Materials Science Program, and the Laboratory for Laser Energetics.
Our high-impact research garners international attention. Our faculty have won national and international awards for their breakthrough innovations. For example, emeritus Professor Ching Tang, a member of the National Academy of Engineering, was awarded the NEC 2018 C&C Prize and the 2019 Kyoto Prize for pioneering OLED technology.
Academics
Our mission is to provide students with the initial foundation, knowledge, and skills they will need to become leaders in their professional careers. Our highly accessible faculty are here to guide undergraduate and graduate students on their educational journeys at Rochester.
Undergraduate
Our department offers a BS degree in chemical engineering (accredited by the Engineering Accreditation Commission of ABET, http://www.abet.org) as well as a minor in chemical engineering and a minor in environmental engineering.
Students majoring in chemical engineering at the University are eligible for the Eisenberg Summer Research Fellowship, which provides funding for students to participate in innovative chemical engineering research with department faculty.
Graduate
We provide graduate programs leading to PhD and MS degrees in chemical engineering, with concentrations in advanced materials or sustainable energy. In addition to our chemical engineering courses, we offer courses from other departments to provide a wider scope of learning.
Living in Rochester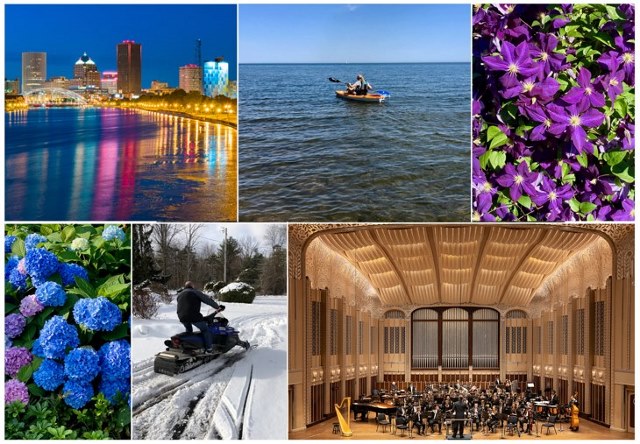 Rochester is New York's third-largest metropolitan area and is home to over a million people. Civil rights leaders like Frederick Douglass and Susan B. Anthony hail from this vibrant city. Rochester is a welcoming, friendly place with top public schools and hospitals, a low unemployment rate, and low cost of living.
Located between Lake Ontario and the Finger Lakes region in Upstate New York, Rochester is teeming with diversity, education, arts and culture, nightlife, restaurants, recreation, sports, and architecture, but at the same time provides affordability, accessibility, community and hospitality. Greater Rochester International Airport, only 10 minutes from the University of Rochester campus, serves domestic and international destinations.
People of Rochester enjoy more than 3,500 acres of nationally recognized parks. The Genesee River's waterfalls and gorges, the Erie Canal, Irondequoit Bay, and Lake Ontario are perfect for a day of cruising or watersports, such as sailing, boating, kayaking, canoeing, swimming, or fishing. The Finger Lakes are also nearby; they are a huge tourist attraction for their picturesque setting and famous wineries. Every fall, the region's many orchards offer a taste of the best apples and other fruit to savor. During the winter, residents bundle up and head to nearby ski slopes and sledding hills; snowmobiling is also a favorite pastime on the many groomed trails in nearby areas.
Rochester is world-renowned for its lively cultural scene, from the world-class Eastman School of Music, to museums, galleries, theaters, and festivals. Rochesterians have a choice of events centered on food, music, the arts and culture. Famous museums include the Rochester Museum of Fine Arts, the Rochester Contemporary Art Center, the Memorial Art Gallery, the National Susan B. Anthony Museum, the George Eastman Museum, and the Strong National Museum of Play.
Whether you're looking to join us as a student, faculty member, staff member, or postdoc, we're excited to help you make your home in Rochester. You can learn more about everything Rochester has to offer by visiting the Visit Rochester website, the University of Rochester At a Glance page, or the Campus Life page.