Applying to Rochester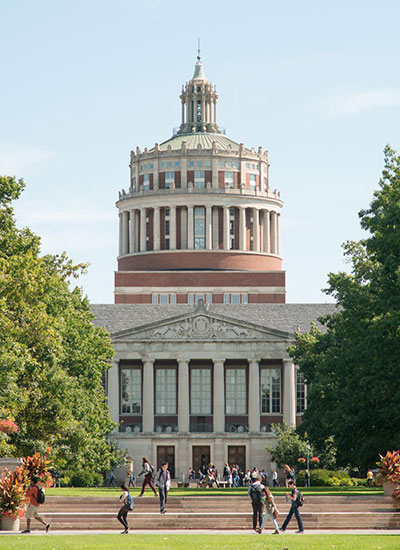 Our graduate program is open to all applicants who have completed a bachelor's degree or will have completed one before matriculating as a graduate student at the University of Rochester. A degree in chemical engineering is not required but applicants should be familiar with key chemical engineering concepts and their applications. Typically, applicants have BS degrees in chemical engineering or closely related disciplines, such as chemistry, physics, mathematics, materials science, bioengineering, biology, mechanical engineering, environmental engineering, or interdepartmental engineering.
We value the rich perspectives, skills, and ideas people from varied backgrounds bring to the Rochester community. Diversity is key to the University of Rochester's mission and our department. The teaching and research of our faculty provide opportunities to engage deeply in concerns related to diversity, equity, and inclusion. Diversity leads to better ideas, is essential for social justice, and enriches the learning and research environment.
The PhD application closes on January 15 each year. The MS application closes on March 15 each year. Applications for the spring semester are rarely taken.
All applicants must make an official application, using the University's online forms and procedures, and following the directions from the Arts, Sciences & Engineering, graduate admissions portal. See the application package page for details. Submission of GRE scores is encouraged but not required. More details regarding applications to the PhD and MS programs are below.
If you have an interest in spring admission, please contact the department's graduate program director directly to discuss your application.
Individual chemical engineering faculty members do not admit applicants directly to their research groups. Please do not send individual faculty members or staff informal documents and appeals for informal evaluations and/or admission to a research group. Inquiries and materials sent to individual professors may or may not be redirected to administrative staff.
Questions
Questions regarding the University of Rochester's online application should be directed to ASEGEPA@Rochester.edu or (585) 275-4153.
Questions regarding the chemical engineering department graduate application should be directed to chegradinfo@che.rochester.edu or (585) 275-4913.
More Information