Overview
University of Rochester's chemical engineering program is accredited by the Engineering Accreditation Commission of ABET, http://www.abet.org.
Our bachelor's degree in chemical engineering combines mathematics, chemistry, physics and biology with fundamental engineering analysis and design principles.
Chemical engineering graduates work in a wide range of careers. Some work as engineers in specialized fields like microelectronics, materials science, biotechnology and alternative energy. Others continue on to get advance degrees in law, medicine, business or engineering.
Chemical engineering students are in high demand in all of these areas and have the highest entry-level salaries of all major disciplines. Learn more about chemical engineering careers and professional connections of our department.
Chemical Engineering Curriculum
Chemical engineers must possess a quantitative understanding of engineering principles that govern technological processes. Therefore, the curriculum of the Department of Chemical Engineering at Rochester includes the study of applied mathematics, material and energy balances, thermodynamics, fluid dynamics, energy and mass transfer, separation processes, chemical reaction kinetics and reactor design, chemical process analysis, process design and simulation, and process control. Courses are built on a foundation in mathematics, chemistry, and physics.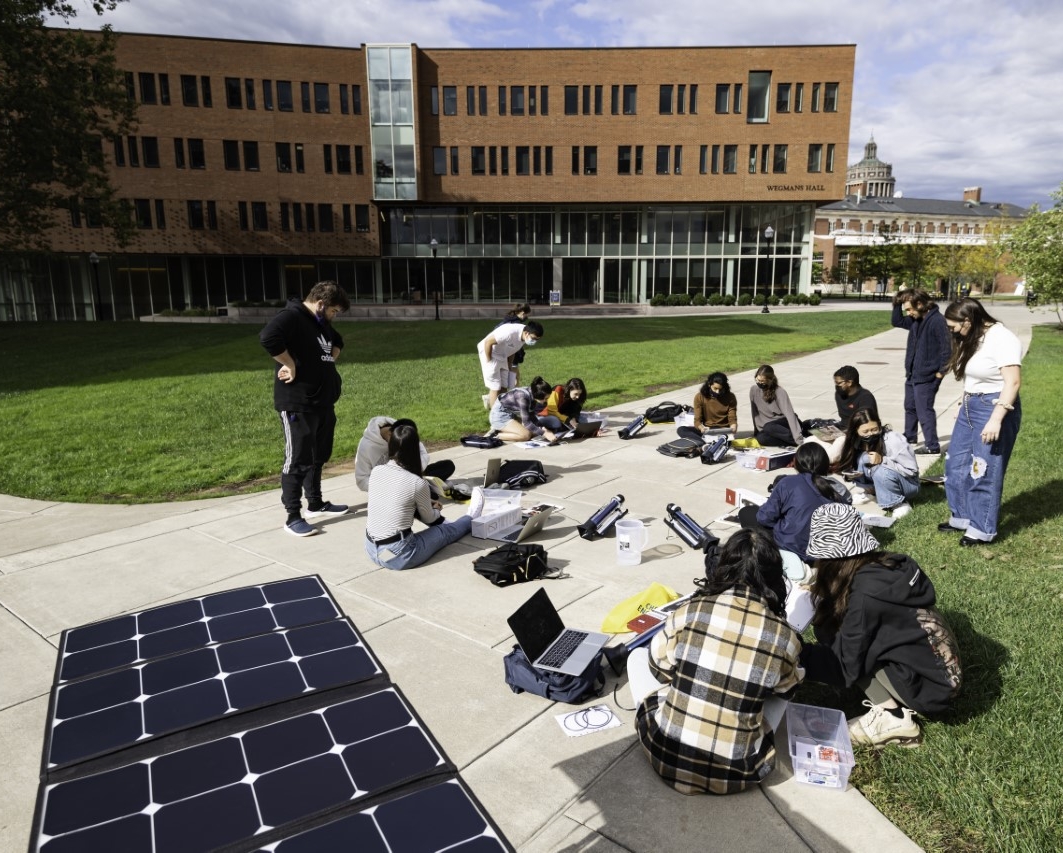 Students learn how to program complex process simulations and gain hands-on laboratory experiences throughout their education at Rochester. For example, students take the course Introduction to Sustainable Energy in their first semester, which includes a teamwork laboratory project on designing and building a solar hot water heater and comparing its performance to a commercial heater. In the fall of their senior year, students conduct laboratory experiments on chemical engineering principles. They crown their lab experience in the spring of their senior year with senior design projects, which are often sponsored by the University of Rochester Medical Center and local companies.
Additionally, courses in writing and communicating professional identity are required. Electives in the social sciences and humanities complete the education.
Requirements for chemical engineering majors and minors and program educational objectives and outcomes are described in more detail on separate pages.


Dual Degree Options
Dual majors and minors are common to chemical engineering students at the University of Rochester. The most common minors are mathematics, environmental engineering, and materials science. Students also often minor in economics, English, chemistry, business, mechanical engineering, or biomedical engineering. With careful planning, double majors and minors can easily be completed in four undergraduate years. Given the numerous course requirements for dual degrees, it is important to speak with the chemical engineering undergraduate coordinator about this program early on to ensure you are taking appropriate courses.
Transfer Credit
See the College Center for Advising Services (CCAS) transfer credit page for transfer credit rules. Contact the CCAS office for detailed procedures and more information.
Financial Aid
Undergraduate students at the University of Rochester may be eligible to receive financial aid. Details are available from the Financial Aid Office.
Student Experiences
Both current and past undergraduate students share their sentiments about the value of their college experience and education in chemical engineering at the University of Rochester.
Resources for Wellbeing
The University offers many resources to support the wellbeing of its members, including undergraduate and graduate students, postdocs, staff, and faculty. Members of the University community are encouraged to engage the staff and resources available on campus.
The American Institute of Chemical Engineers
The American Institute of Chemical Engineers (AIChE) is a professional organization for chemical engineers. AIChE was established in 1908 to distinguish chemical engineers as a profession independent of chemists and mechanical engineers.
AIChE has over 60,000 members in more than 110 countries. Student chapters at various universities around the world have also been established throughout its history. The student chapters tend to focus on providing networking opportunities in both academia and in industry as well as increasing student involvement locally and nationally.
For more information visit the University of Rochester AIChE chapter website.
See also Program Enrollment and Graduation Information (pdf) for the BS in chemical engineering.