Applying to Rochester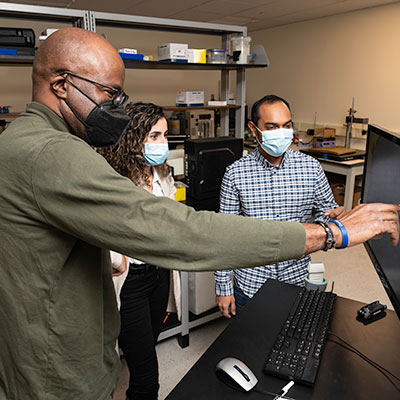 The Department of Electrical and Computer Engineering (ECE) at the University of Rochester offers a MS and PhD in electrical engineering.
Below is information on:
How to apply
Financial aid
Standardized tests
Application requirements for non-US students
Transcripts
Non-discrimination policy
Contact information
---
How do I Apply?
Please use the online application to apply to the program and submit the following materials by January 15:
University of Rochester graduate program application form
Personal Statement (upload to the application database)
Three letters of recommendation (upload to the application database)
Official transcripts (upload to the application database)
Official copy of English proficiency test (TOEFL, IELTS, or Duolingo) results
Any supplemental material you want to provide (upload to the application database)
GRE reporting is optional (if GRE score is self-reported, an official score report from ETS is required for score verification)
Note:
Documents that are uploaded to the application database do NOT need to be mailed to the department.
There is a $70 application fee.
We accept applications for a fall program start only.
Application review takes place between Janaury 15 and April 1.
The ECE department looks for well-rounded, highly qualified applicants. The department also looks for students with a strong research background and will review all supporting materials for evidence of this.
Our current graduate students typically ranked in the top five percent of their undergraduate classes, had very strong GPAs, and provided excellent recommendation letters.
Financial Aid
The University of Rochester offers fellowships, scholarships, and assistantships on a competitive basis for full-time graduate study. Departments are also able to provide some support for graduate students who are US citizens through the College Work Study Program. Applicants are encouraged to apply for outside funding such as NSF or DOE fellowships.
Standardized Tests
Graduate Record Exam (GRE)
Reporting the results of the GRE is optional. If you choose to self-report these results, the department requires a score report from ETS for score verification. The GRE University of Rochester institution code is 2928. The ECE department code is 1203.
Required English Language Proficiency (TOEFL, IELTS, or Duolingo)
If your native language is not English, you must show proof of English language proficiency.
International applicants that have, or will receive, a bachelor's or master's degree from an English-speaking university located in one of the countries listed below, then the TOEFL/IETLS academic requirement is automatically waived.
List of countries:
Australia
Canada
Commonwealth Caribbean Nations
Ghana
Ireland
Kenya
Liberia
New Zealand
Nigeria
Singapore
South Africa
Uganda
United Kingdom
Virgin Islands
If your native language is English, but your country is not listed above, please send an email request to michele.foster@rochester.edu once the application has been started.
Application Requirements for Non-US Students

Please upload all documents and letters in support of your application in English. If necessary, you can send supporting materials in original formats supplemented by English translations.
Please do not send secondary school records.
Many countries do not issue visas without proof of adequate proficiency in English, such as a satisfactory score on the TOEFL. To obtain a visa for study in the United States, international students must present their Certificate of Eligibility (I-20 or IAP-66) at a US consulate or embassy and demonstrate full proof of ability to pay all tuition and living expenses for the first year of study.
Transcripts
Please upload in-progress transcripts to the application database for review when submitting your application.
(Final official degree conferral documentation and transcripts will be required when matriculating and enrolling into the University of Rochester graduate program.)
Non-discrimination Policy
The University of Rochester values diversity and is committed to equal opportunity for persons regardless of age, color, disability, ethnicity, gender identity or expression, genetic information, marital status, military/veteran status, national origin, race, religion/creed, sex, sexual orientation or any other status protected by law. Further, the University complies with all applicable non-discrimination laws in the administration of its policies, admissions, employment, and access to and treatment in University programs and activities.
Questions on compliance should be directed to the particular school or department and/or to the University's Equal Opportunity Coordinator, University of Rochester, P.O. Box 270039, Rochester, NY 14627-0039. Phone: (585) 275-9125.
Contact Information
Graduate Administrator
Michele Foster
michele.foster@rochester.edu
(585) 275-4054