DEI Event
Tuesday, April 27, 2021
7 p.m.–8 p.m.
Register today: https://bit.ly/Rocero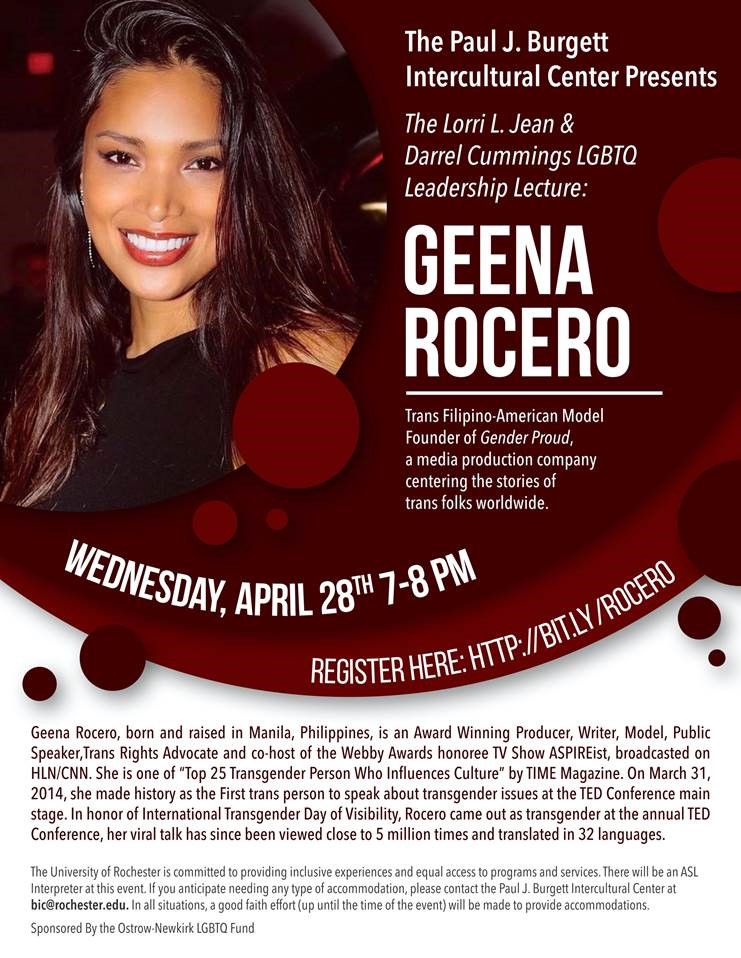 Geena Rocero is a trans, Filipino-American supermodel and founder of Gender Proud (a media production company centering the stories of trans folks worldwide).  Born and raised in Manila, Philippines, Geena is an Award Winning Producer, Writer, Model, Public Speaker, Trans Rights Advocate and co-host of the Webby Awards honoree TV Show ASPIREist, broadcasted on HLN/CNN. She is one of "Top 25 Transgender Person Who Influences Culture" by TIME Magazine.
She, with Gender Proud Productions produced and presented "Beautiful as I Want to Be" series and TV special on LogoTV highlighting trans youth, and received the 2016 GLAAD Media Award. Gender Proud also produced "Willing and Able", a 2017 GLAAD Media nominated web series about transgender employment with Fusion TV and worked with Fusion/Univision to produce a TV documentary about transgender athletes, "No League of Their Own" and won 2017 Association of LGBTQ Journalists Best in Health and Fitness Coverage.
This event is open to everyone (feel free to share!).  An ASL interpreter will be at the event.