Alumni News
Congratulation to ECE Alumni, Raiyan Baten!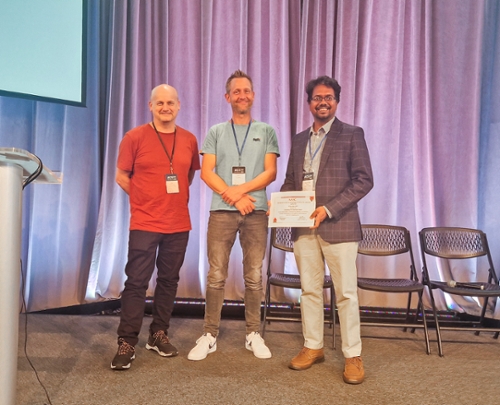 Raiyan Abdul Baten (ECE PhD 2022 and a postdoc in URCS) won the Outstanding PhD Dissertation Award by the Association for the Advancement of Affective Computing (AAAC), announced at the Affective Computing and Intelligent Interaction (AAAC) conference at MIT today.
Raiyan worked in the ROC HCI lab during his PhD and postdoc. He was fortunate to have Gourab Ghoshal, Gonzalo Mateos, and Marvin Doyley as PhD committee members who added significant rigor to his work.
His thesis on "Understanding, Modeling and Elevating Creative Performances in Self-organizing Networks" bridges computer science, computational social science, social psychology, and cognitive science through affective computing.
UR Press did a shout out on his work in the past.
ResearchGate highlighted him for having an inspiring research story.
Raiyan has joined the rank of assistant professor of computer science at the University of South Florida, joining another URCS distinguished alumnus, Gene Louis Kim (advised by Len Schubert).
We wish Raiyan all the best!