Nate Powers '16 honored as an Outstanding Adult Student by the Rochester Area Colleges Continuing Education Committee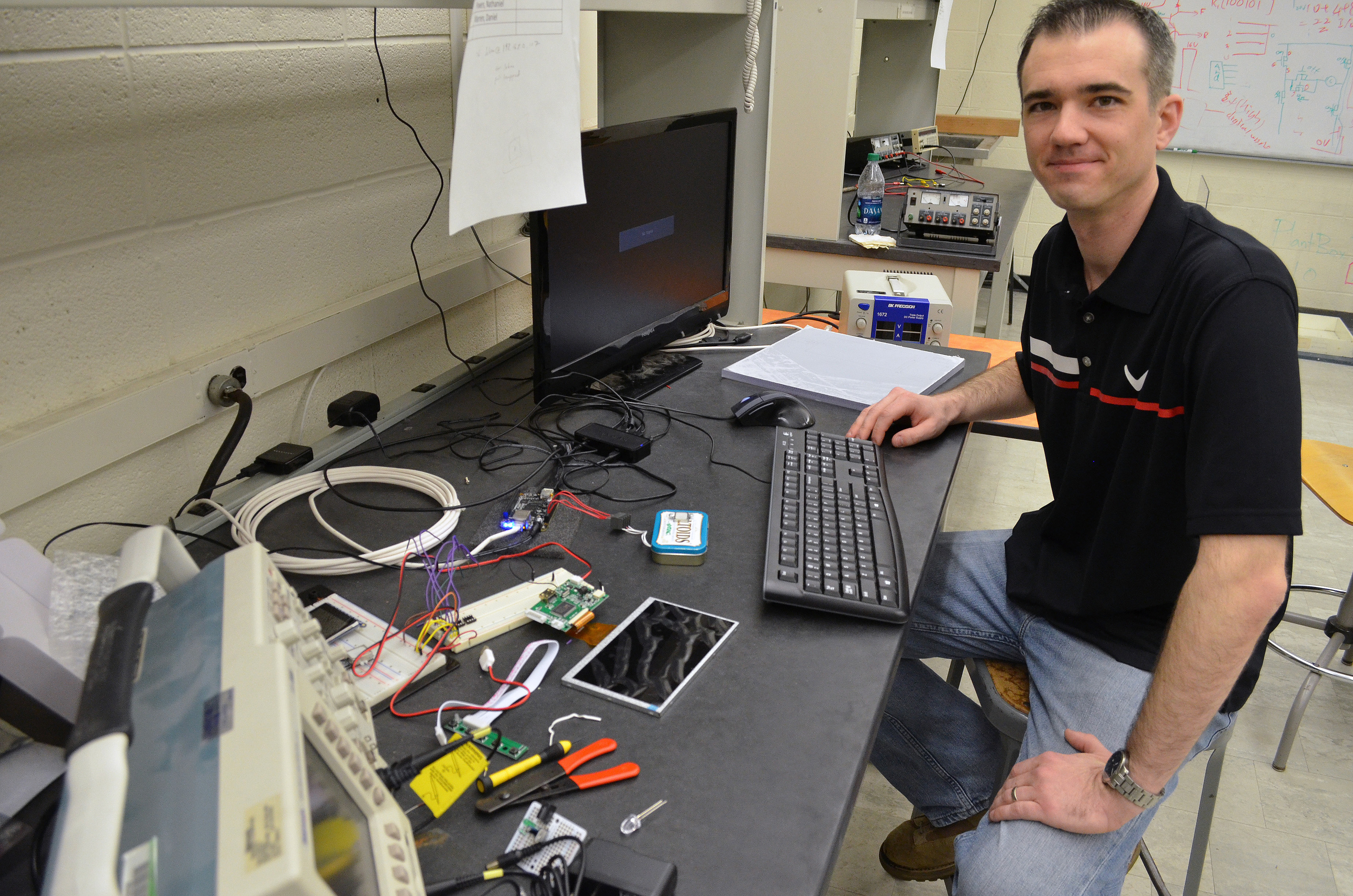 Nate Powers at a work bench in the Hopeman Building, working on his team's senior design project. The project is  a 'BioGlass -- a compact, low voltage access panel which integrates facial recognition with a robust fingerprint sensor via a microcomputer as a biometric endpoint, one of many potential devices which can be easily managed over a closed, secure TCP/IP framework to control physical access to localities or assets.
From boot camp to diploma, Nate Powers leaves a lasting impression
Eight years ago, Nathaniel Powers stepped off a bus with other Marine Corps recruits and stood at attention on the famed yellow footprints of the Parris Island Marine Corps Recruit Depot.
    "I was 25 years old, surrounded by 18- and 19-year-olds, wondering what am I doing here, what am I getting into?'" Powers recalled.
    Nonetheless, he excelled. His "technical prowess" as an avionics technician with the famed Black Sheep air squadron "left a lasting impression," according to the citation for his Navy and Marine Corps Achievement Medal.
     Four years later, he experienced some of the same misgivings when he arrived at the University of Rochester as a 29-year-old undergraduate pursuing a bachelor's degree in electrical and computer engineering –again surrounded by lots of 18- and 19-year olds.
    Once again, he excelled. On April 20, he will be honored as an Outstanding Adult Student by the Rochester Area Colleges Continuing Education Committee.
     "He has a quiet and unassuming demeanor and probably has no idea what a great role model he is for the students," says Barbara Dick, the undergraduate coordinator in Electrical and Computer Engineering.  "The students respect him, and from what I have heard from them, they have learned a great deal from Nate . . ."
Powers, who grew up in North Chili, NY., graduated from Churchville-Chili High School, then attended the University of Buffalo for two years before returning to Rochester. He worked for a heating and air conditioning company owned by the father of one his friends. "It was just the two of us," Power said. "I learned the trade for a couple of years."
In 2005 he earned an associate's degree in recording arts from Full Sail University in Winter Park, Florida. Unable to find work in that field, he returned to the heating and air conditioning company. However, by 2008, "work was really drying up because of the economic downturn," Powers related. "The owner was getting older, and was winding down the business. He wanted to hand it off to me, but it was the worst time to try take that on."

Instead, Powers enlisted in the Marines. And found his calling.
It began in boot camp.  "Victory does not belong to the individual, but to the team," the drill instructors told their recruits.
   That is something engineering students learn too, working in teams to solve problems in their classrooms and labs, just as they will do when they join engineering companies.
After boot camp, Powers was assigned to VMA-214, the famed Black Sheep squadron based at Yuma, Arizona.
He did trouble-shooting, testing and repair of the complex systems in the squadron's Harrier jets, famed for their ability to take off vertically or from extremely short, improvised runways.
Power's "superior technical acumen and innovative managerial style directly contributed" to the squadron's 6,000 flight hours without mishap, according to the citation for his achievement medal.
"The level of maintenance I found myself involved in raised questions about how and why engineers designed our hardware and software the way they did," Powers wrote in an essay for the RACCE award. "Discussions and training sessions with brilliant technical representatives (including engineers from Boeing and Northrup Grumman) solidified my resolve to deepen my understanding."
    This, too, pointed Powers toward Electric and Computer Engineering as a future career path.
         The University of Rochester was the only school he looked at as his discharge neared. His wife Jennifer, who works for The Arc of Livingston-Wyoming County, earned her psychology degree at the University. The University's Department of Electrical and Computer Engineering offered the kind of program he was looking for
       Financial help from the Post-911 GI Bill enabled Powers to pursue his studies without having to work.
     Nonetheless, with toddler son to look after, Powers and his wife had to juggle priorities. For example, Powers made a point of not letting homework take precedence over spending a few hours playing or reading a book with this son – even though it often meant catching up on his studies well into the early hours of the morning.
    "Without the continuous support and devotion of my wife, this endeavor would not have been possible," Powers wrote in his essay.  "It has not been easy for either of us, but this is something we agreed to embark on together because it will lead to a better future for us all."
    Powers is also grateful for the support he's received from two Electrical and Computer Engineering faculty members. He found a sympathetic listener in Adjunct Professor Victor Derefinko, a former serviceman, who "understood what it was like being in the military" and could also relate to the pressures of trying to be a good student, husband and father all at once, Powers said.
   Working two summers in Asst. Prof. Tolga Soyata's lab, he added, "exposed me to so many new ideas and skills in programming I otherwise wouldn't have encountered," Powers said.  "We also managed to crank out several publications in a short time."
 Powers has maintained a 3.72 grade average and will graduate in May with high hopes of landing a job in the Rochester area. He is particularly interested in working for a company with military contracts, given his own military background.
    His advice for other servicemen on campus: Be patient with the younger students.  And be confident in your own abilities.
    "A lot of the work that you do in college is self-directed; someone is not going to be holding your hands through it all," Powers said. "You have to rely on yourself. Coming from the military you should feel confident because you will already have that ability."
"Just hunker down and get it done."