2020 SPIE-Franz Hillenkamp Postdoctoral Fellowship Awarded to Fernando Zvietcovich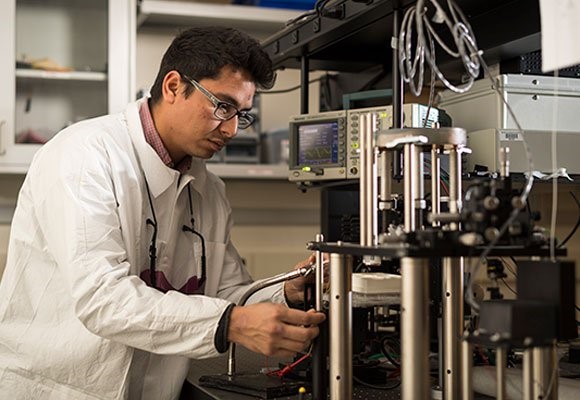 BELLINGHAM, Washington, USA and CARDIFF, UK - SPIE, the international society for optics and photonics, has announced Fernando Zvietcovich, currently a PhD candidate at the University of Rochester, as the winner of the 2020 SPIE-Franz Hillenkamp Postdoctoral Fellowship in Problem-Driven Biomedical Optics and Analytics. The annual award of $75,000 supports interdisciplinary problem-driven research and provides opportunities for translating new technologies into clinical practice for improving human health. Zvietcovich will receive recognition during the BiOS Hot Topics session at SPIE Photonics West 2020 in San Francisco on 1 February.
Zvietcovich's research — conducted in conjunction with Kirill Larin and Michael Twa at the University of Houston's Biomedical Optics Lab — will build on work covered in Larin's lab over the past five years. Zvietcovich will work on translating a novel biophotonics-based optical coherence elastography (OCE) method, developed and designed for the non-invasive quantification of corneal spatial biomechanical properties in 3D, into the in vivo clinical use for human ocular disease diagnostics and treatment monitoring.
"In recent years, my research in novel wave-based OCE methods has added to the collaborative scientific community's efforts in demonstrating the powerful capabilities of OCE to advance the diagnosis and monitoring of ocular diseases and treatments in ophthalmology," says Zvietcovich. "Following the precedent of clinically available elastography technologies implemented in other imaging modalities, I strongly believe it is time to translate wave-based OCE into a medical device for its clinical use with human patients. Receiving this prestigious Fellowship from SPIE will enable me and my colleagues to achieve such a goal and, in the long term, improve people's quality of health. I am very proud and fortunate that SPIE recognizes the value of my work by providing me with an excellent opportunity for developing translational research that constitutes a fundamental step towards my career development as young and independent investigator in the biophotonics and translational science fields."
"This is a very exciting proposal from an excellent researcher working in a lab recognized for innovative research that translates into solving medical problems," said the Co-Chairs of the Hillenkamp Fellowship Committee Rox Anderson and Gabriela Apiou. "Fernando's area of focus will directly impact critical challenges in healthcare, and we look forward to seeing the outcome of his work."
Honoring the career of medical laser pioneer Franz Hillenkamp, the SPIE-Hillenkamp Fellowship is a partnership between multiple international biomedical laboratories — the Wellman Center for Photomedicine, the Beckman Laser Institute, the Manstein Lab in the Cutaneous Biology Research Center at Massachusetts General Hospital, Medical Laser Center Lübeck, and Boston University, this year joined by the University of Houston's Biomedical Optics Lab as a hosting lab — and the Hillenkamp family. The endowment is funded through generous donations from the biomedical optics community, with SPIE contributing matching funds up to $1.5 million.
The annual award will support the winner's diagnostic and treatment monitoring research, as
well as his efforts to translate his benchtop advancements into clinical successes.
(25 November 2019)
https://spie.org/about-spie/press-room/press-releases/2020-spie-franz-hillenkamp-postdoctoral-fellowship-awarded-to-fernando-zvietcovich?SSO=1