2013 News Archive
December 23, 2013
Congratulations to Qiang Lin, Assistant Professor of Electrical and Computer Engineering and of Optics, for receiving a $400,000, five-year Faculty Early Career Development (CAREER) Program grant from the National Science Foundation. This is one of the NSF's most prestigious awards in support of junior faculty who exemplify the role of teacher-scholars through outstanding research, excellent education and the integration of education and research within the context of their organization's mission. The grant will help Qiang's research on exploring transformative approaches for generating high-purity entangled photonic quantum states, on a silicon chip, that are capable of diverse applications for both long-haul quantum communication and on-chip integrated quantum computing. Well done, Qiang!
---
December 16, 2013
The director of the Institute of Optics, Professor Dr. Xi-Cheng Zhang has been elected to the grade of Fellow of SPIE. Dr. Zhang will receive his recognition and plaque at the Photonics West Fellows Luncheon on February 3, 2014 in San Francisco, CA. Congratulations!
---
November 26, 2013
Congratulations to Xi-Cheng Zhang, Director of The Institute of Optics and the M. Parker Givens Professor of Optics, for being elected a Fellow of the American Association for the Advancement of Science. This is a prestigious award, the kind that Universities routinely cite as a benchmark of faculty excellence. Xi-Cheng was elected for "distinguished contributions to the generation and detection of broadband terahertz waves, particularly for free-space electro-optic sampling and terahertz air photonics with femtosecond lasers." Well done, Xi-Cheng, and well earned! 
---
November 25, 2013
The Center for Freeform Optics (CeFO), which promises to usher in a new era of optical innovation by shaping lenses and mirrors in unprecedented ways, took an important step forward earlier this month.  Jannick Rolland, the center's director and our Brian J. Thompson Professor of Optical Engineering, reports that CeFO completed the first meeting of its Industry Affiliate Board in Tucson, following a first Topical Meeting of the Optical Society of America on Freeform Optics.
---
November 13, 2013
Carlos Stroud, Professor of Optics and of Physics, has been invited to become Divisional Associate Editor and member of the Board of Editors for Physical Review Letters (PRL), a peer-reviewed, scientific journal published by the American Physical Society. It is considered one of the most prestigious journals in the field of physics. 
---
November 12, 2013
One of our first-year Optics PhD students, Aku Antikainen, has been awarded a fellowship from the Finnish Academy of Sciences and Letters in form of a study grant worth 23,000 Euro.
---
November 11, 2013
Five current and former Optics students have won a $10,000 prize from Excell Partners, a Rochester venture capital firm, for their portable eye examining device.
---
November 5, 2013
It was just announced that one of the faculty members of The Institute of Optics, Professor Nick Vamivakas, won the 2013 IUPAP C17 prize in Quantum Electronics for young scientists in the category of applied aspects. 
---
October 30, 2013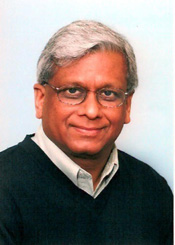 Dr. Govind Agrawal was installed as the inaugural Dr. James C. Wyant Professor in Optics on Monday, October 28.
---
October 28, 2013
Congratulations to Dr. Chunlei Guo, Professor of Optics, for being elected Fellow of the Optical Society of America. This honor is reserved for OSA members who have served with distinction in the advancement of optics; the number of Fellows is limited by the Society's bylaws to no more than 10% of the total OSA membership.
---
October 21, 2013
Congratulations to Mohammad Mirhosseini, a PhD student in Prof. Bob Boyd's group, who recently received the OSA Emil Wolf Prize for outstanding student paper at the recent FiO 2013 conference. His paper was titled "Near-perfect sorting of orbital angular momentum: A step towards high-dimensional quantum communications."
---
October 8, 2013
Congratulations to Optics Alumnus Stephen Fantone who was honored by OSA, naming their distinguished service award after him.
---
October 8, 2013
Two faculty members, Dr. Agrawal and Dr. Zhang, recently accepted responsiblities as Editor-in-Chief for OSA publications.
---
October 1, 2013
This fall we are holding our Industrial Associates at a special time: Sunday and Monday October 13th and 14th.  
---
September 16, 2013
The director of the Institute of Optics, Professor Dr. Xi-Cheng Zhang has been selected to receive the 2014 Kenneth J. Button prize for outstanding contributions to the science of the electromagnetic spectrum by the International Society of Infrared, Millimeter, and Terahertz Waves. Dr. Zhang will receive a custom medal and a check for 2'000 pounds sterling at the 39th International Conference on Infrared, Millimeter, and Terahertz Waves next September in Tucson, Arizona.
---
September 13, 2013
The director of the Institute of Optics, Professor Dr. Xi-Cheng Zhang was interviewed by Nature Photonics on the past, present and future of terahertz science.
---
August 25, 2013
This fall we are holding our Industrial Associates at a special time: Sunday and Monday October 13th and 14th.  
---
August 12, 2013
What could be more tantalizing than glowing, nanoscale diamonds, suspended by lasers? That's what a team led by Nick Vamivakas, assistant professor of optics, has pulled off, as described in a paper last week in Optics Letters. Their experiment demonstrates that it is possible to levitate diamonds as small as 100 nanometers (approximately one-thousandth the diameter of a human hair) in free space, by using a technique known as laser trapping. This is fascinating work, with some interesting applications that you can read about here. 
---
August 9, 2013
The Synopsys corporation announced that graduate students Matthew Bergkoetter (working in Prof. James R. Fienup's group), James Corsetti (working in Prof. Duncan T. Moore's group), and undergraduate student Jonathan Papa won three of the four prizes for the 2013 Robert S. Hilbert Memorial Optical Design Competition, winning $1,000.00 each. Matt's and Jonathan's projects were part of Prof. Julie Bentley's "Lens Design" class. James' design was based on his current research, assisted by Julie.
---
August 1, 2013
Professor Rolland has secured a federal Industry/University Cooperative Research Center grant that will leverage more than $4 million in combined federal, industry and academic funding for the Center for Freeform Optics. The official title is
---
July 8, 2013
Congratulations to Optics Prof. Robert Boyd, Physics Prof. John Howell, Boyd team members Omar Magana-Loaiza and Mehul Malik, and Physics grad student Gregory Howland, whose paper on "Compressive object tracking using entangled photons" was picked as a Science magazine Editor's Choice.
---
July 3, 2013
Here is a collection of awards and/or grants some of our awesome Optics students have been collecting over the last few months:
---
June 28, 2013
Last week, 15 students (Class of '14) and three teachers  from West Irondequoit High School participated in Photon Camp, a five-day opportunity for the students to learn about optics and optical engineering through a mix of lectures, visits to labs and field trips to places like Optimax, Photon Gear and the Laboratory for Laser Energetics.
---
June 24, 2013
Director Xi-Cheng Zhang shares a thank-you note that three of his Institute of Optics staff members received. They recently hosted a tour by home-schooled and McQuaid high school students.The visit was "inspiring, enlightening and downright enjoyable," the note says, adding "the older students certainly were able to expand their frame of reference and the younger ones are starting to think this math and science stuff isn't so bad—'you can get really cool jobs.' " Thanks to Per Adamson, director and coordinator of the teaching labs; Brian McIntyre,lecturer; and Assoc. Prof. Jim Zavislan, our incoming associate dean, for giving these students a great tour and, hopefully, inspiring some of them to become future students at The Institute!
---
June 20, 2013
An event whose long history originated in The Institute of Optics is the Rochester Conferences on Coherence and Quantum Optics, which has been held every six years since its inception in 1960, and is coming to an end on June 20, but was very well received by participants.
---
June 7, 2013
John Howell, a Professor of Physics at the University of Rochester, decided to tackle an unusual DIY project. With the help of his 14 year-old son, Benjamin, he built three simple, but surprisingly effective optical cloaking devices with inexpensive, off-the-shelf materials.
---
June 3, 2013
This year marks the 52th anniversariy of the Institute of Optics Summer School program. This is a series of optics courses available for our Industrial Associates members as well as any interested external participants. 
---
May 23, 2013
David Williams, Dean for Research in Arts, Sciences and Engineering; the William G. Allyn Professor of Medical Optics; professor of optics, of brain and cognitive sciences, of ophthalmology, and of biomedical engineering; and director of the Center for Visual Science, has received the Edridge Green Medal from the Royal College of Ophthalmologists in London. Congratulations on this high honor!
---
May 20, 2013
The Institute of Optics proudly presented its class of seniors who graduated this month. The picture on the right shows Director Xi-Cheng Zhang with (top row from left to right) Anthony Yee, Greg McKay and Hae Won Jung.  Standing on middle step are Sam Steven and James Talerico. Front row is Sarah Walters.
---
May 15, 2013
Bianca Jackson, a post doc in Prof Zhang's group, has just been featured on NPR's Science Friday blog as well as in a BBC News piece about her work using a terahertz scanner to reveal ancient art that is obscured by multiple layers of paint or other materials.
---
May 9, 2013
Sarah E. Walters '13, bachelor of science in optical engineering is the recipient of a NSF Fellowship that will allow her to continue her studies and passion for optical engineering in the PhD program here at the Institute of Optics.
---
April 23, 2013
Prof. Jannick Rolland and researchers in her group at the Institute of Optics have applied a sophisticated imaging technique to obtain the first 3D, high-resolution pictures of a recently developed type of optical lenses. They say that using Optical Coherence Tomography (OCT) during the manufacturing process allows them to significantly improve the quality of these new and promising lenses.
---
April 15, 2013
One of our PhD Candidates in Optics, Cristina Canavesi, won 1st place in the 2013 Simon Games on April 12th and was awarded a full-tuition scholarship to pursue an Executive MBA at the Simon School of Business, a scholarship valued at over $89,000!
---
April 5, 2013
The Institute of Optics and the Department of Physics engaged in The Photon Cup, their annual soccer match on Friday 4/5. The Optics prevailed. But it wasn't easy. Down 0-3 midway through the match, the Institute players, who included students and faculty, had to storm back to emerge as 4-3 winners.
---
March 26, 2013
Our faculty members continue to shine: We've just learned that Miguel Alonso, associate professor of Optics, will receive this year's prestigious Edward Peck Curtis Award for Excellence in Undergraduate Teaching . The award recognizes "a record of distinguished teaching, typically developed over at least eight years, as well as a demonstrated readiness to help less experienced faculty colleagues or teaching assistants master their craft." Well done, Miguel!
---
March 16, 2013
A cheer for Kevin Thompson, visiting scientist at The Institute of Optics, for receiving SPIE's 2013 A.E. Conrady Award. The award is given annually in recognition of exceptional contributions in design, construction, and testing of optical systems and instrumentation. Kevin is being recognized for his efforts to discover and develop a complete aberration theory for imaging optical systems, nodal aberration theory, that applies to rotationally nonsymmetric optical systems.
---
March 4, 2013
Dr. James Fienup , Robert E. Hopkins Professor of Optics, has been selected as the latest recepient of the OSA Emmett N. Leith Medal 2013. Jim is being recognized for the integration of optics and digital systems as demonstrated in pioneering contributions to phase retrieval, image restoration, wavefront sensing and computational imaging.  
---
February 1, 2013
Three postdoctoral positions are available immediately in the ARIA imaging group at the University of Rochester, which includesWilliam Merigan, Jennifer Hunter, David Williams and Mina Chung. A major emphasis of the ARIA laboratory is study of the function of inner and outer retina neurons in mouse and monkey using a variety of methods including calcium imaging with genetically encoded calcium indicators and single and multiphoton imaging of both intrinsic and externally applied fluorophores.
---
January 22, 2013
Professor Chunlei Guo, professor of optics, has been named a fellow of the American Physical Society (APS) for his pioneering contributions in laser-matter interactions and applications, including the discoveries of the black and colored metals and exploring their wide range of applications.
---
January 11, 2013
M. Parker Givens, professor emeritus and former acting director of the Institute of Optics died peacefully Jan. 11 at age 96. Givens, a renowned teacher to generations of students ,was a professor at the University since 1947. He made important contributions to the development of optical data processing and synthetic holography, and was a beloved instructor. While very successful in research, Parker said the main focus object of his career was helping people to learn.