Summer Short Course Series
Overview
June 8-26, 2020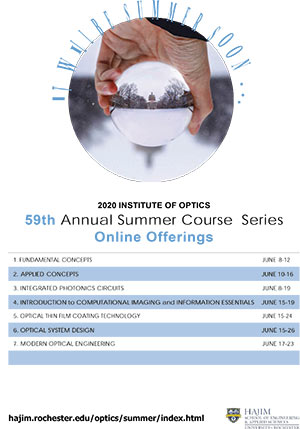 In 2020, the Institute of Optics will hold its 59th annual summer school short-course series, offering a mix of one-week courses and two-and-a-half-day courses from June 8-26, 2020.
View the course descriptions below and see registration and pricing to enroll.
Feel free to contact us with any questions.
---
2020 Course Descriptions
Applied Concepts—colorimetry and vision, wave guide photonics, and more.
Fundamental Concepts—covering lenses, aberrations, principles of diffraction, optical systems, polarization, birefringence and crystal optics, and radiometry and detection.
Integrated Photonics Circuits—targeted for students, researchers, and engineers in industry, who want to learn the fundamental aspects of integrated photonics circuits.
Introduction to Computational Imaging and Information Essentials—introduces computational imaging, a modern paradigm in imaging in which the burden of image formation is no longer borne solely by optical physics.
Modern Optical Engineering—covering optical testing and instrumentation, optical manufacturing, optical thin film coatings, diffractive optics, and glass in modern optics.
Optical System Design—introduces participants to both fundamental and advanced concepts in optical system design by integrating classroom lectures with software training labs. The course can be taken as a full week course or as one of two three day course options depending on interest/skill level. Introduction to Optical System Design covers first order layout, image quality evaluation, aberration theory, optimization, and refractive/reflective design forms. Advanced topics in optical system design begins with refractive/reflective design forms and then covers advanced optimization techniques, zoom lenses, aspheres, stray light analysis, tolerancing, and illumination design.
Optical Thin Film Coating Technology—covers all aspects of optical interference devices including thin-film design, digital design methods, and coating and characterization.