The Industrial Associates (IA) Program
IA Home > Student Recruiting
Student Recruiting
One of the most valuable benefits of IA Membership is the priority access to students. Member companies are able to gauge individual talent by interfacing directly with students, be it through ad hoc campus visits or Bi-Annual IA Meeting networking opportunities, poster sessions, and scheduled interviews. Member companies can also post their vacancies on our electronic Job Board for students and alumni to view.
The online resume database has been discontinued. IA members may contact Dustin Newman for access to student resumes.
Upcoming Events
Interview and Resume Review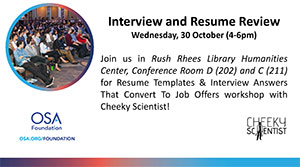 Wednesday, October 30, 2019 (4-6 p.m.)
Rush Rhees Library Humanities Center
Conference Room D (202) and C (211)
Are you job searching or interviewing at the Industrial Associates meeting? Join us for Resume Templates and Interview Answers That Convert To Job Offers workshop with Cheeky Scientist!
Please RSVP online by Thursday, October 17.
---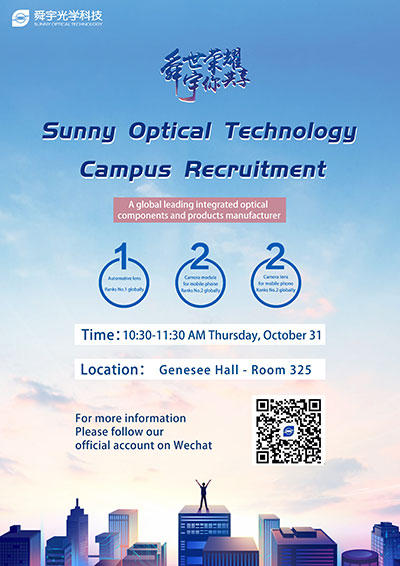 Sunny Optical Technology Campus Recruitment
A global leading integrated optical components and products manufacturer.
Thursday, October 31, 2019 (10:30-11:30 a.m.)
Genesee Hall, room 325
For more information follow our official account on Wechat.
Automative lens—ranks No. 1 globally
Camera module for mobile phone—ranks No. 2 globally
Camera lens for mobile phone—ranks No. 2 globally