Research Experiences for Undergraduates (REU)
Nano-, Bio-, and Quantum Photonics at University of Rochester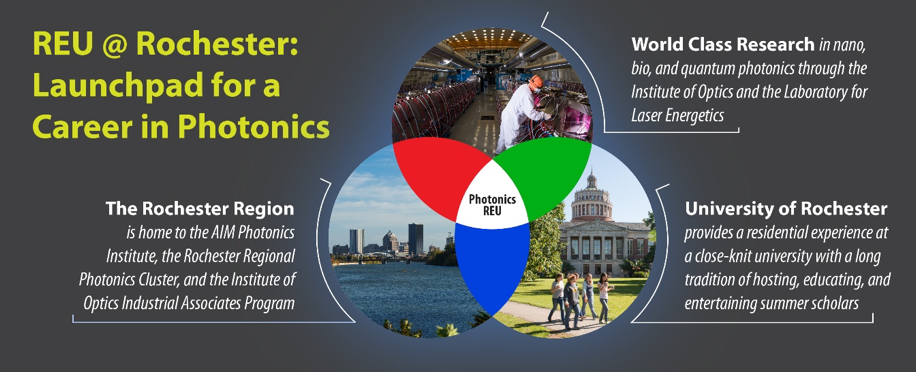 The Nano-, Bio-, and Quantum Photonics REU program at University of Rochester aims to create a well-defined pipeline to a career in photonics for REU participants. There is a particular focus on underrepresented demographics, undergraduates from colleges without strong photonics research programs, and community college students—all of whom might not otherwise recognize photonics as a possible career path.
This program will engage participating students in the frontiers of photonics research in nanoscience, bioscience and quantum science while at the same time providing them with experiences to recognize the excellent career opportunities, both academic and industry based, available in photonics. The host department is the university's world-renowned Institute of Optics, located in the Hajim School of Engineering and Applied Sciences. REU participants will benefit from the Institute's Summer School, its Industrial Associates program, and its strong ties with the local Rochester photonics industry.
The Nano-, Bio-, and Quantum Photonics REU is coordinated by the university's David T. Kearns Center, home to a vibrant community of undergraduate scholars. REU students will spend nine weeks living with and learning among 60-70 other undergraduate researchers. You will conduct 300 hours of research under the guidance of one or more of the University of Rochester's premier faculty members, attend several seminars and workshops that discuss in-depth research techniques, complex problems and finding unique solutions, as well as career opportunities and preparation. You will create academic presentations and present a final poster at the end of the summer. In addition, you will visit and enjoy the summer scene of Rochester, NY and spend time bonding with new friends.
Mentoring
REU students will experience multiple layers of mentoring. In their research, student will will work closely with a faculty member and an assigned graduate student. In addition, each REU research cohort (nano, bio, and quantum) will meet regularly with a dedicated graduate student mentor assigned to their area to discuss the broader picture. Additionally, REU participants will also serve as mentors themselves during their summer experience, as part of a one-week summer program hosted for local high school students.
Research
The primary mission of the REU program is that each participant has a meaningful research experience in one of the host faculty laboratories. The assembled faculty mentor team is already active in sponsoring productive undergraduate research, with the participating faculty sponsoring more than 110 undergraduate researchers in the past 5 years, resulting in over 20 papers.
Program Dates: May 26 to August 2, 2021 (tentative)
Students should review the eligibility and application requirements before applying to the program. Last year we were able to accommodate students whose semesters ended in early June; please contact us ahead of time if this applies to you.
If you have questions about this Photonics REU program or about the application process, please contact Prof. Andrew Berger at andrew.berger@rochester.edu. For details about the general REU experience at the University of Rochester, we encourage you to visit the Research Experiences for Undergraduates page in the Kearns Center website (covering several REUs at the university) or send an email to kearnscollegeprogram@ur.rochester.edu.
2021 Research Opportunities
Faculty Member

Project Area

Biomedical optics and spectroscopy

Quantum light-matter interfaces

Linear and nonlinear optical properties of materials with vanishingly small refractive index

Laser beam breakup and pattern formation on propagation through nonlinear media

Quantum limited optical imaging

Integrated nanophotonics

Femtosecond laser nanoengineering and metal nanophotonics

Energy applications of femtosecond laser functionalized surfaces

Overall water splitting from femtosecond laser functionalized surfaces and materials

Ultrafast spectroscopic and single molecule fluorescence studies of semiconductor nanoparticles relevant to quantum communication

Integrated photonics chemical and biological sensors

Solar concentrators

Design and metrology of gradient index materials

Femtosecond laser development for bioimaging

Optical coherence tomography

Customized vision correction with advanced ophthalmic lenses

Image-based medical instruments
Eligibility
To be eligible, an applicant must meet all of the following criteria:
Be a US citizen or permanent resident
Be majoring in the physical sciences or engineering with at least one semester left to complete the undergraduate degree
Participants are selected based upon academic achievement and scientific interests. This project places emphasis on recruiting low-income and underrepresented minority students, students from community colleges, and students from 4-year colleges that lack comparable summer research opportunities.
Application Requirements
Applications will be accepted through an NSF-sponsored website: https://www.nsfetap.org/login. Please note that this website is not active until applications open on November 20, 2020.
To submit your application, you first register for an REU ID and then create an REU account. You can select up to ten REU programs and apply to them using a "Common App" format. A common portion will prompt you for a CV, a transcript, contact information for letter writers (they will be notified automatically), and a 500-word statement about your interest in pursuing an REU in general. You will also have to answer some program-specific questions and upload a PDF specifically for the Photonics REU.
Applications open on November 20, 2020 and close on February 15, 2021.