The Institute of Optics and the Optics Community Mourn the Loss of Kevin P. Rolland-Thompson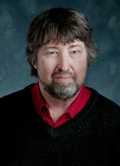 Kevin P. Rolland-Thompson, husband of Jannick Rolland-Thompson, passed away on November 20, 2015, just over 4 weeks after being diagnosed with cancer.  Kevin was a Scientist in The Institute of Optics; The Group Director, Research and Development/Optics at Synopsys, Inc.; and an active member and Fellow of both SPIE and OSA. Kevin received his Ph.D. in Optical Sciences from the University of Arizona, College of Optical Sciences where he was recently recognized as the 2015 Alumnus of the Year.  He earned a dual BS degree in Physics and Astrophysics at the University of Minnesota, Institute of Technology.
Kevin was an admirable person, a dedicated mentor of students, an inspirational colleague, and a wonderful friend. Faculty, staff and students at The Institute of Optics as well as the optics community are deeply saddened by the loss of this distinguished scientist.
A memorial service for family and friends will be held on December 5 at Saint Patrick's Catholic Church, 97 W. Bayard Street, Seneca Falls, NY.
The OSA and SPIE have posted tributes that honor Kevin and detail some of his significant contributions to the field of optics:
SPIE Memorial to Kevin Rolland-Thompson