Institute Startup Highlighted in Science Coalition Report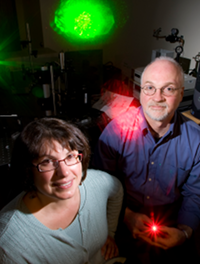 A new report from the Science Coalition, "American-Made Innovation Sparking Economic Growth," highlights one of the many ways investments in basic scientific research benefits the overall economy: the formation of new companies.   One of the startups featured in the report, Clerio Vision, was founded in 2014 by Researchers Wayne Knox (right) and Jon Ellis with the Institute of Optics, and Krystel Huxlin (left) with the Flaum Eye Institute in the Medical Center.
"Each one of these companies is an American innovation success story and illustrates the powerful ripple effect that the partnership between the federal government and our nation's research institutions has on society and our economy," said Glynda Becker, president of The Science Coalition. "If Washington, D.C. is serious about creating good jobs, producing American goods, and keeping the U.S. ahead of our international competitors, then, as this report shows, continued strong and steady funding for basic scientific research is a wise investment."
Read the full story at the University of Rochester NewsCenter.