Institute Alum Alex Gaeta: Distinguished Researcher and Tennis Champion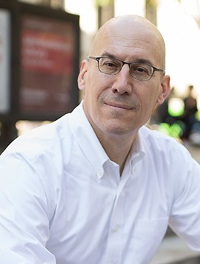 Optics alumnus Alex Gaeta, a graduate of the Institute of Optics ('83, '85M, '91PhD), has major achievements not only in optics, but also as a former tennis player on the University of Rochester's NCAA Division III tennis team. Gaeta, a former graduate student of Professor Robert Boyd of the Institute of Optics is now the David M. Rickey Professor of Applied Physics and of Materials Science at Columbia University.
As undergraduates, Robert Swartout '83, '92M and Alex Gaeta formed a dynamic doubles team on the tennis court. Their pairing culminated in the NCAA Division III National Championship in their senior season in 1983.  He was inducted into the UR Athletic Hall of Fame in 1993.
Asked which professors stood out in his mind, Alex responded, "Professor Bob Boyd from the Institute of Optics played a critical role. He let me work in his lab as a senior and then let me stay in his lab for my PhD. He was a great mentor and I will always be indebted to him for taking an interest in me and  guiding me."
Gaeta is also the editor-in-chief of Optica. 
(Parts of this story were taken from "A National Champion Looks Back: Alex Gaeta '83, '85M, '91PhD" by Dennis O'Donnell, Director of Athletic Communications.)