A hero's welcome for Donna Strickland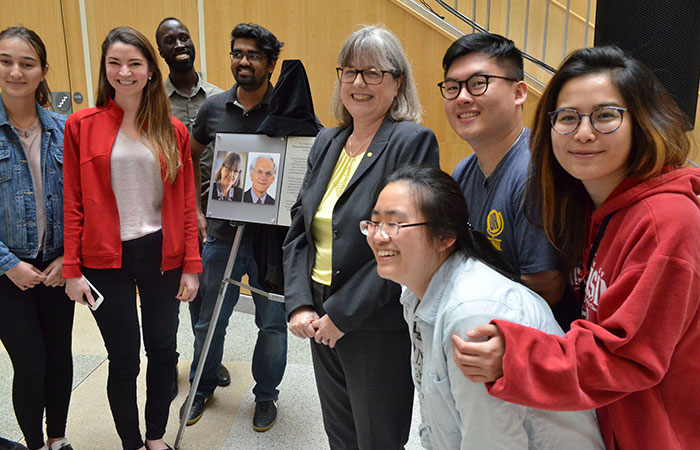 During her week in Stockholm last December, Nobel Laureate Donna Strickland '89 (PhD) had to explain to her hosts why Americans would not be glued to their TV sets watching Nobel Prize coverage, as many Europeans would be.
"We care about the Oscars, we care about the Emmy's, but scientists getting awards? Not so much," she says.
That may be true generally, but not at the University of Rochester. Strickland's alma mater gave her a hero's welcome during her five-day visit to the campus during Commencement.
Strickland received her PhD from the Institute of Optics. She and her mentor, Gérard Mourou, former Institute professor and scientist at the University's Laboratory for Laser Energetics (LLE), were recognized with the 2018 Nobel Prize in Physics for revolutionizing the field of high-intensity laser physics. The "chirped-pulse amplification" technology they pioneered at the LLE was the basis of Strickland's PhD dissertation and has enabled high powered lasers to be used for applications ranging from corrective eye surgery to understanding how stars and planets form.
Strickland and Mourou are "primary exemplars of leadership in research and education and our Meliora spirit," University President Richard Feldman said Friday when Strickland attended the unveiling of a commemorative plaque in Munnerlyn Atrium.
"I'm so grateful that you're here for this weekend," Feldman told her.  "I think we're keeping you pretty busy."
Strickland delivered the Clark Carroll Distinguished Lecture Thursday in Hoyt Auditorium to a jam-packed audience of students and faculty members. At a reception afterwards, she individually greeted students and other well-wishers who waited in line for a chance to shake her had.
On Saturday she spoke at the University's doctoral ceremony, where she received the Rochester Distinguished Scholar Award. And on Sunday she delivered the College commencement address and received the University's George Eastman Medal.
---
Wendi Heinzelman (at left), dean of the Hajim School of Engineering and Applied Sciences, says Strickland's Nobel Prize is "momentous for women everywhere, especially women scientists and engineers, and young girls who are aspiring scientists and engineers." The fact that she got a Noble Prize for work done as part of her PhD dissertation, she adds, is also incredible "for all of the graduate students all around the world" in terms of the impact that their work could have.

---
University officials are grateful that Strickland, now a professor at the University of Waterloo, has given Rochester due credit for her achievement, starting  with her inclusion of Feldman, Institute of Optics director Scott Carney and Laboratory for Laser Energetics director Mike Campbell among the 14 guests she was allowed to invite to the Nobel Awards Ceremony. 
"This kind of recognition is inspirational for the rest of us here at the University -- for people in the same field, but even beyond." Feldman said. "It just says so much about the impact that the work done here can have, and we're immensely proud of you for the vital and lasting scientific contributions you've made."
Carney says the recognition the Institute has received is at least partly responsible for a record yield of students applying to its PhD program this year.
Equally grateful are students and recent graduates who had an opportunity to meet Strickland in person. Much has been made of the impact Strickland will likely have in inspiring other females to excel in STEM fields – and in serving as a role model for graduate students. There was clear evidence of that on the University of Rochester campus during her visit.
For example, optics alumna Sze Wah Lee '18, now working as an optical engineer associate with Lockheed Martin in Orland, FL, returned to campus "because I knew that Donna was going to be here. 
"One of the things with being a female in optics is not only are we outnumbered by men," Lee says, "it is also hard to find someone relatable to look up to." She said she was inspired by Strickland's lecture on Thursday, especially when the Nobel laureate talked about how she considered quitting part way through her PhD.
Strickland described going back home to Guelph, Canada and turning on a TV documentary about the National Ballet School of Canada. The ballet director said: "I tell every incoming class: if you can imagine doing anything else, go do it because you won't stay with this, it's too hard." 
"I thought 'hmmm, every PhD student should hear that,'" Strickland related.  "So, I sat there and thought 'could I imagine doing something else? No.'"
"I think that's a very important message for me," says Lee, who met Strickland after the plaque ceremony – and walked away with the Nobel laureate's autograph. 
Raymond Wu '19, who also met Strickland, graduated from the Institute of Optics this weekend and will start his path toward a PhD this fall at the University of Southern California. He, too, was inspired by Strickland's comments. 
"I believe at some point during my PhD period I will have the same (second) thoughts, but I will remember her talk and that will help me."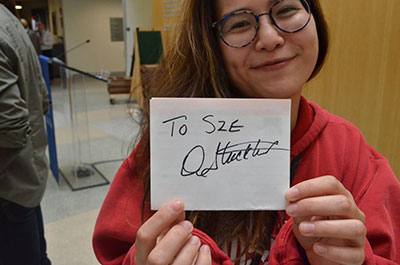 Strickland's representation of optics to the world "has been like a beacon," Carney says,
"And the standard she has set is that it is never too early in your career to do great work," Carney says. He drew laughter at the plaque ceremony, when he observed: "Those of you who do not know, but who are graduate students here and should realize, this was not just work done for a PhD, but a first paper. And that's now the expectation at the University of Rochester."