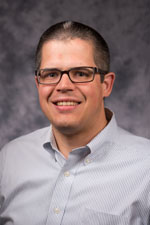 Wyatt E. Tenhaeff
Associate Professor of Chemical Engineering
PhD, Massachusetts Institute of Technology, 2009
4403 Wegmans Hall
(585) 275-5080
Fax: (585) 273-1348
wyatt.tenhaeff@rochester.edu
---
Selected Honors & Awards
NSF Career Award 2019
Alvin M. Weinberg Fellowship, Oak Ridge National Laboratory (2009-2011)
National Science Foundation Graduate Research Fellowship (2005-2008)
MIT Presidential T. Haslam Fellowship (2004-2005)
Courses
ChE 231: Chemical Reactor Design
ChE 476: Polymer Synthesis and Characterization
Recent Publications
Huo, N.; Ye, S.; Ouderkirk, A.; Tenhaeff, W.E., "Porous Polymer Films with Tunable Pore Size and Morphology by Vapor Deposition." ACS Applied Polymer Materials, 2022. DOI: 10.1021/acsapm.2c01032
Manly, A.J.; Tenhaeff, W.E., "Mechanically and thermally robust microporous copolymer separators for lithium ion batteries," Electrochimica Acta, 2023, 425, 140705.  DOI: 10.1016/j.electacta.2022.140705
Manly, A.J.; Tenhaeff, W.E., "One-step fabrication of robust lithium ion battery separators by polymerization-induced phase separation, Journal of Materials Chemistry A, 2022.  DOI: 10.1039/d1ta10730e
Li, Z.; Hu, F.; Huo, N.; Tenhaeff, W., "A Flexible Thin Film Lithium Battery with a Chemical Vapor Deposited Organic Complex Cathode," Journal of Materials Chemistry A, 2022. DOI: 1039/d1ta10867k.
Zhao, Y.N.; Huo, N.; Ye, S.; Boromand, A.; Ouderkirk, A.; Tenhaeff, W.E., "Stretchable, Transparent, Permeation Barrier Layer for Flexible Optics," Advanced Optical Materials, 2021. DOI: 10.1002/adom.202100334. Publication
Li, Z.; Zhao, Y.N.; Tenhaeff, W.E., "Determining the Absolute Anodic Stability Threshold of Polymer Electrolytes: A Capacity-Based Electrochemical Method," Chemistry of Materials, 2021, 33, 6, 1927-1934. DOI: 10.1021/acs.chemmater.0c04248. Publication
Ioanniti, M.M.; Hu, F.; Tenhaeff, W.E., "Energy-Dense Li Metal Anodes Enabled by Thin Film Eelectrolytes" Journal  of Vacuum Science & Technology, 2020, 38, 6. DOI:10.1116/6.0000430. 
Hu, F.; Li, Z.; Wang, S.; Tenhaeff, W.E., "Mirror-Like Electrodeposition of Lithium Metal under a Low-Resistance Artificial Solid Electrolyte Interphase Layer," ACS Applied Materials & Interfaces, 2020, 12, 35, 39674-39684. Publication
Patel, A.; Wilcox, K.;  Li, Z., George, I.; Juneja, R.; Lollar, C.; Lazar, S.; Grunlan, J.; Tenhaeff, W.E.; Lutkenhaus, J.L., "High Modulus, Thermally Stable, and Self-Extinguishing Aramid Nanofiber Separators," ACS Applied Materials & Interfaces, 2020, 12, 23, 25756-25766. Publication
Zhao, Y.; Tenhaeff, W.E., "Thermally and Oxidatively Stable Polymer Electrolyte for Batteries Enabled by Phthalate Plasticization," ACS Applied Polymer Materials, 2020, 2, 80-90. Publication
Shen, B.H.; Wang, S.; Tenhaeff, W.E., "Ultrathin Conformal Polycyclosiloxane Films to Improve Silicon Cycling Stability," Science Advances,2019, 5, 7, eaaw4856. Publication
Gao, Y.; Tenhaeff, W.E., "Synthesis and Characterization of Thin Film Polyelectrolytes for Soild-State Lithium Microbatteries," Journal of Vacuum Science & Technology B, 2019, 37, 5, 051401. Publication
Li, Z.; Zhao, Y.N.; Tenhaeff, W.E., "5V Stable Nitrile-Bearing Polymer Electroyte with Aliphatic Segment as Internal Plasticizer," ACS Applied Energy Materials, 2019, 2, 5, 3264-3273. Publication
Shen, B.H.; Armstrong, B.L.; Doucet, M.; Heroux, L.; Browning, J.F.; Agamalian, M.; Tenhaeff, W.E.;Veith, G.M., "Shear Thickening Electrolyte Built from Sterically Stabilized Colloidal Particles,"ACS Applied Materials and Interfaces, 2018, 10, 11, 9424-9434. Publication
Shen, B.H.; Veith, G.M.; Tenhaeff, W. E., "Silicon Surface Tethered Polymer as Artificial Solid Electrolyte Interface,"Scientific Reports, 2018, 8, 11549. Publication
Research Overview
Our research emphasizes the development of novel thin film materials and structures for several applications.  Electrochemical energy storage in reversible lithium ion and lithium metal batteries is a primary interest.  We are developing approaches to improve the stability (e.g. cycle life) and power performance in lithium batteries. For lithium metal batteries, for example, we are studying the stabilization of lithium metal anodes for safe, reversible cycling where the formation of dendritic morphologies is suppressed. In lithium ion batteries, thin coating layers and/or surface modifications are used to dramatically alter reaction kinetics. We have expertise in many thin film synthesis techniques-both vacuum and solution based. In particular, we exploit the exceptional compositional control and conformality of initiated chemical vapor deposition (iCVD) for the synthesis of polymeric thin films. The fundamentals of this technique are studies such that new capabilities can be developed.
We are also interested in redox flow batteries for grid level energy storage applications.  We are utilizing our expertise in solid electrolyte characterization to develop new flow battery concepts.  Replacing the porous membrane separating the two charge storage solutions with a liquid-impermeable solid electrolyte provides new opportunities that we are exploring.
Research Interests
Electrochemical Energy Storage
Solid State Lithium Batteries and Solid Electrolytes
Polymer Thin Films, Interfaces and Thin Film Synthesis & Characterization
Vacuum Deposition Techniques