Summer REU
National Science Foundation Research Experience for Undergraduates (NSF REU)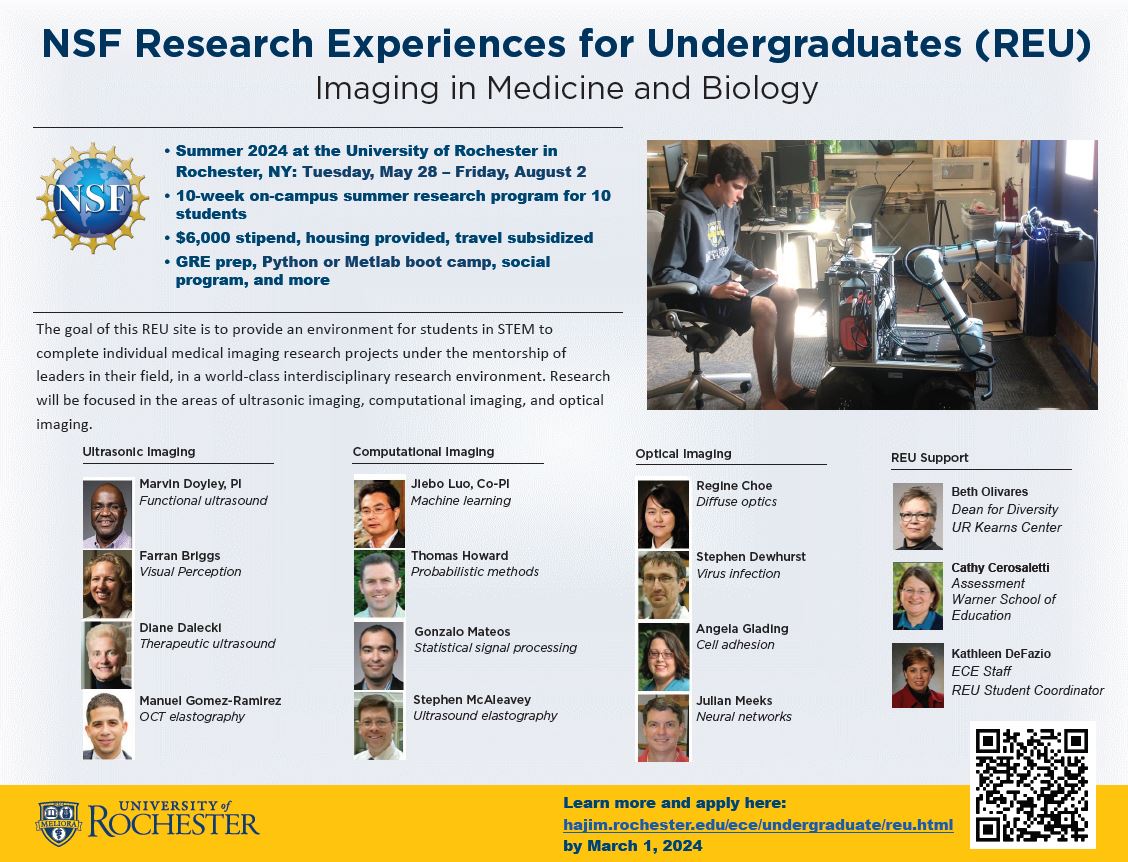 ---
Can functional ultrasound detect neural activity with better sensitivity than functional magnetic resonance imaging (fMRI)? How well can diffuse optical techniques detect breast cancer and monitor bone healing? Does combining machine learning with ultrasound allow better flow detection in smaller vessels or increase the speed of processing large echo datasets (gigabyte-sized)? Can cell imaging methods help researchers determine the mechanisms by which COVID-19 and SARS-CoV-2 induce cellular stress? Can GSP-based graph learning frameworks be used to estimate structural brain connectivity from functional signals measured by resting-state fMRI?
Diverse teams are needed to answer engineering questions like these. This Imaging in Medicine and Biology for Underrepresented Minorities REU site will provide an environment for underrepresented minorities (URM) undergraduates to complete individual research projects under the mentorship of leaders in their respective fields, in a world-class interdisciplinary research environment. The Imaging in Medicine and Biology for Underrepresented Minorities REU site will also provide structured enrichment programs to participants that will allow students to develop critical skills needed to be successful in STEM graduate education (GRE preparation, time management, oral/written presentation). The University of Rochester (UR) is an ideal setting for this REU site; it is the home of the Rochester Center for Biomedical Ultrasound (RCBU), the Institute of Optics, the Goergen Institute for Data Science (GIDS), and the Del Monte Institute of Neuroscience—members of which will serve as mentors in this REU site. See the full abstract for this NSF REU for more information.
More information regarding the NSF REU program in general can be found on the National Science Foundation website.
PI
Marvin Doyley, PhD
Professor and Chair
Department of Electrical and Computer Engineering
Co-PI
Jiebo Luo, PhD
Professor
Department of Computer Science