2015 News Archive
December 1, 2015
Rohit Nayak, a Ph.D. candidate supervised by Prof. Marvin Doyley, presented a poster titled "Visualizing principal strains of the carotid artery using plane wave imaging" at the University of Rochester Center for AIDS Research (CFAR) World AIDS Day Symposium on December 1st.  Rohit was awarded "Best Graduate Student Poster" in the Clinical/Translational/Public Health Category for his work!  Co-authored by Rifat Ahmed and Marvin Doyley (Electrical & Computer Engineering), Prashant Verma (Physics & Astronomy) Nancy Carson and Vikram Dogra (Imaging Sciences), Meera Singh and Sanjay Maggirwar (Microbiology & Immunology), and Giovanni Schifitto (Neurology), the poster presented the promising results from an ongoing NIH-supported HIV/vascular aging project.  Congratulations to Rohit and his co-authors on a job well done!
---
November 30, 2015
Wendi Heinzelman, Professor of Electrical and Computer Engineering and Dean of Graduate Studies for Arts, Sciences, and Engineering, who has named a Fellow of IEEE for her contributions to algorithms, protocols, and architectures for wireless sensor and mobile networks.  Less than 0.1% of voting members are selected annually for this member grade elevation. This is well-deserved recognition!
---
November 9, 2015
A recent Sunday Democrat and Chronicle story looks in-depth at how the Center for Emerging and Innovative Sciences is matching University researchers with local companies to bring cutting edge projects to fruition — from cameras that could transform airport security to noninvasive laser treatments for vision problems. Projects with local companies involving Wayne Knox, Professor of Optics; Zeljko  Ignjatovic, Associate Professor of Electrical and Computer Engineering; and Jonathan Ellis, Assistant Professor of Mechanical Engineering,  are described. The story also details how CEIS helped pave the way for Rochester's designation as headquarters for the AIM Photonics initiative.  Mark Bocko, Paul Ballentine and the rest of the CEIS staff deserve this recognition for a job well done.  Read more . . .

---
October 5, 2015
Eby Friedman, Distinguished Professor of Electrical and Computer Engineering, who was recently inducted into the inaugural class of the University of California, Irvine Engineering Hall of Fame. The University just passed its 50th anniversary and decided to induct 50 individuals across all of the engineering and computer science fields from its 50 year history. Congratulations Professor Friedman!
---
September 8, 2015
       Mark Bocko, Distinguished Professor and Chair of Electrical and Computer Engineering and recipient of numerous University awards for teaching excellence, has been an ideal mentor for creative young engineers. His love of music is reflected in the audio and music engineering program that he spearheaded; it is one of our fastest growing majors. He directs our state-funded Center for Emerging and Innovative Sciences, which helps match companies with university researchers, and which played a key role in laying the groundwork for our successful AIM Photonics proposal. He Technical Director for the Center for Future Health, where he and his colleagues develop cutting edge devices that help individuals monitor their own health. And Mark is also co-founder and CEO of ADVIS, a high-tech start up that provides integrated sensors for imaging and dynamic signal measurements. Those, indeed, are ample achievements for a lifetime, but I suspect Mark has even more up his sleeve!
---
July 20, 2015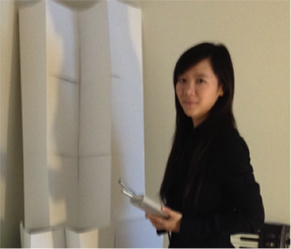 ---
May 11, 2015
This year's winners of the Charles and Janet Forbes Competition, a technical business idea contest for undergrads, are: First place and $4,000 to Lucian Copeland '15 ECE and Alexander Matthers '15 BME of NullSpace. Second place and $2,500 to BME seniors Isabella Cazacu, Brittanie Kilchoer, Jennifer Park, and Melinda Vander Horst, and Jacob Bohannon (KEY) of SimuClage. Third place and $500 (three-way tie) to Teamo, including Nick Brown '15 of Optical Engineering, Anis Kallel '17 of Computer Science, and Pedro Vallejo-Ramirez '16 Optical Engineering; CampusFly, including Ervis Vukaj '16 of Financial Economics, Rikesh Thapa '15 of Computer Science, Nicholas Falcone '15 of Financial Economics, and Charlie Kelman '16 of Computer Science; and Blackout Games, including Kedar Shashidhar '15 and David Porter '15, both of Audio and Music Engineering, and Dan Hassin '16 of Computer Science.
---
May 11, 2015
The Donald M. Barnard Prize -- awarded to junior or senior engineering students on the basis of personal qualification and achievement -- goes to Racquel Awuor '15 Electrical and Computer Engineering, Nicholas Cirucci '15 Optical Engineering, Trevor Ivanov '15 Optical Engineering,  Tess Jacobs '15 Optical Engineering, Garrett Meier '15 Chemical Engineering, Jeremy Warner '15 Electrical and Computer Engineering/Computer Science, Ling Yang '15 Biomedical  Engineering and Andrew Zeccola '15 Biomedical Engineering.
---
May 4, 2015
Follow the link to listen live: http://wxxinews.org/programs/connections
---
May 4, 2015
Congratulations to Gary Ge and Matthew Archibald, both both in the Class of 2016, who have received scholarships from the Rochester Engineering Society!



---
April 27, 2015
ECE alumnus Ryan Aures '06 ('07 MS) has been  named  2015 Young Technologist of the Year by the Technology Alliance of Central New York. Ryan is lead systems engineer in the Defense and Environmental Solutions division of SRC, the not-for-profit research and development company that was spun off from Syracuse University Research Corporation. Ryan works in electronic warfare threat simulations and has been instrumental in developing test and evaluation capabilities for next generation electronic warfare jamming platforms.
---
April 20, 2015
Eby Friedman, Distinguished Professor of Electrical and Computer Engineering, who will receive the 2015 IEEE Circuits and Systems Society Guillemin-Cauer Best Paper Award for "TEAM -- ThrEshold Adaptive Memristor Model," which he co-authored with colleagues at Technion,  The Israel Institute of Technology in Haifa. The award recognizes the best paper published during the three prior calendar years in Transactions on Circuits and Systems.
---
April 20, 2015
David Heid, a masters student in Electrical and Computer Engineering concentrating Audio and Music Engineering, who has received a $2,000 prize from The Center for Music Innovation and Engagement at the Eastman School's Institute for Music Leadership as winner of the 2015 New Venture Challenge. David was awarded the prize for the "Laptop Orchestra Live (LOL)" startup, which was recently featured on Discovery Channel's Daily Planet Show. The prize will help David produce a new Arts Leadership Program course planned for Spring 2016 that will build another bridge between the Eastman School of Music and the Hajim School. Read more here. 
---
February 27, 2015
Roman Sobolewski, Professor of Electrical and Computer Engineering and of Physics, who has been recognized as a distinguished fellow of the Kosciuszko  Foundation Collegium of Eminent Scientists for his outstanding achievements and for his contributions to the Polish scientific community.
---
January 6, 2015
Marvin M. Doyley, Associate Professor of Electrical and Computer Engineering, is part of a multidisciplinary team which was recently awarded a new $3.8 million grant from the National Institutes of Health to better understand why individuals who receive anti-retroviral treatment for HIV are at greater risk for heart disease and stroke.  Scientists speculate that this occurs due to some combination of the infection and treatments themselves, which may be damaging cells in the body's blood vessels.  One of the key measures in the study will be the thickness and stiffness of the carotid artery – the major blood vessel that serves the head and brain.  The researchers will employ a new ultrasound technology developed by Prof. Doyley's group to track changes to the vessel over time.  UR neurologist Giovanni Schifitto is one of the principal investigators of the study, along with Sanjay Maggirwar, (UR Department of Microbiology and Immunology) and Jun-Ichi Abe (M.D. Anderson Cancer Center in Texas).  Vikram Dogra (UR Imaging Sciences), Amneris Luque (UR Infections Disease Unit), and Xing Qiu (UR Biostatistics and Computational Biology) are also members of the research team.  Congratulations to Prof. Doyley and the entire team!