Photon Camp 2018, June 25-29
9 am to 5 pm
About
The Photon Camp is a free, one-week program where rising high school juniors and seniors can explore the growing field of optics and optical engineering.  Students spend the week attending faculty lectures, visiting local optics industry sites, and working in the Institute of Optics laboratories.  Photon Camp is geared towards rising juniors and seniors with a strong background in math and physics.   As the level of instruction at Photon Camp is higher than the typical high school classroom, exceptions will not be made to this policy.  
Note:  Photon Camp is geared toward local area students.  Housing is not provided.
"Photon Camp was an excellent opportunity to gain firsthand college experience. There's more to optics than most people realize!"
—Danielle, Photon Camp alum
Capstone Projects
The students will present capstone projects that were developed during Photon Camp. Parents, friends, teachers, etc., are invited and encouraged to attend this event. Past capstone projects have included:

• Thermal Imaging
• Optical Communication
• Digital versus Analog Imaging
• Solar Energy
• Cell phone Camera versus Digital SLR
• Illumination/Fluorescence
Past Lab Experiments and Demos
• HeNe, CO2, and Nd:YAG Lasers
• Fiber Splicing
• Holography
• Spectroscopy
• Interferometry
• Pinhole Camera
• H-alpha Telescope
Rolling Admission
Space is limited and admissions are "rolling."  That is, camp slots will be filled as qualified applicants apply.
Teachers
You may advertise Photon Camp with the printable poster and brochure.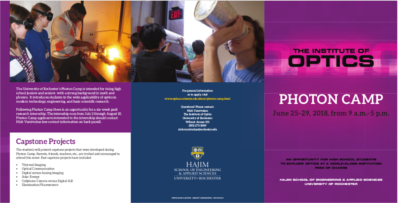 The Application Process
Complete this downloadable application.
Complete this permissions and liability release form.
Create a personal statement of approximately 300 words or less describing your interests and future ambitions.
Ask a teacher for a letter of recommendation (math or science teacher preferred).  Order your transcript from your school.
Submit the following documents to Dustin Newman:

Application
Permissions form
Personal statement
Letter of recommendation
Transcript
Deadline for Applications
The documents for the 2018 camp must be received by Dustin Newman by the May 26th, 2018.  Space is limited and admissions are "rolling".    That is, camp slots will be filled as qualified applicants apply.
Submission of Applications
Documents may be submitted via mail or scanned .pdf document.
Note:  If submitting an application via email, please do not submit photos of the documents.  They

must

be submitted in PDF format.  Non-PDF applications, or illegible PDF submissions, will not be considered.
Submit documents electronically to dustin.newman 

or
If you are submitting via U.S. mail, use the following address:

Dustin Newman
The Institute of Optics
PO Box 270186
Rochester, NY  14627