Spring 2021 Bi-Annual IA Meeting
March 17-19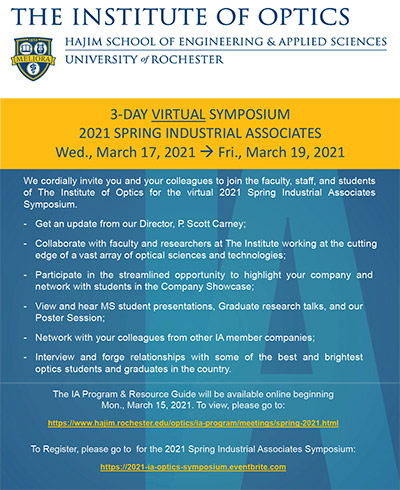 The Institute of Optics cordially invites its Industrial Associates member companies to join the faculty and students of The Institute of Optics for its 2021 Spring Industrial Associates Meeting. The symposium events will be held virtually over three days. Interviews will be at the discretion of IA companies.
Get an update from our director, P. Scott Carney.
Collaborate with faculty and researchers at the Institute working at the cutting edge of a vast array of optical sciences and technologies.
Participate in the streamlined opportunity to highlight your company and network with students in the Company Connection Showcase.
View and hear MS student presentations, graduate student research talks, our our poster session.
Network with your colleagues from other IA member companies.
Interview and forge relationships with some of the best and brightest optics students and graduates in the country.