Colloquia & Guest Speakers
Noninvasive Vision Correction: 20/20 by 2020
Dr. Wayne Knox, Institute of Optics
Monday, October 30, 2017
3 p.m.
Goergen 101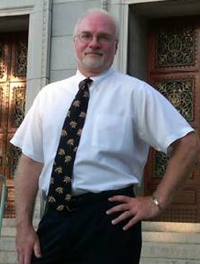 Abstract:
We discuss advances in a new approach to vision correction. It is based on refractive index modifications induced by femtosecond laser micromachining of ophthalmic materials such as hydrogels and cornea tissue. We have written high visual quality optical correctors in contact lenses, intraocular lenses and live eyes. We discuss the fundamental underlying mechanisms of refractive index modification, as well as recent device and metrology advances.
Bio:
Wayne H. Knox obtained BS (1979) and PhD degrees (1983) at The Institute of Optics, University of Rochester in Rochester, NY. He went to Bell Labs in Holmdel NJ in 1984 and worked as a Postdoctoral Fellow, was promoted to Member of Technical Staff in 1985 and to Distinguished Member of Technical Staff in 1990. In 1997, he was promoted to Director of the Advanced Photonics Research Department where he was responsible for forward-looking research in a number of areas related to advanced technologies in telecommunications in long-haul, access and Metro networks. He is a Fellow of the Optical Society of America and a Fellow and Life member of the American Physical Society, in 1990 won the National Academy of Sciences W.O. Baker Award for Initiatives in Research. In 1999 he won the Richtmyer Award for Physics teaching from the American Association of Physics Teachers. He has authored over 140 publications and has 40 or more patents granted or pending, and has chaired many international professional society meetings such as Ultrafast Phenomena, CLEO, Quantum Optoelectronics, Ultrafast Electronics and Optoelectronics, the OSA Annual Meeting, and Nonlinear Optics. He has served on OSA and APS Fellows committees, and was Chair of the 2002 Tyndall Award Committee. In April 2001 he returned to the Institute of Optics as Director and Professor of Optics where he currently carries out a research program in ultrafast telecommunications and biomedical optics. He was elected to a 2002-2005 term as Director-at-large on the OSA Board of Directors, and served on the Finance Committee. He served on the Scientific Advisory Board of Ardesta and The Science Foundation of Ireland and the Technical Advisory Board for Translume, Inc. He was appointed to the Board of Directors of the Rochester Regional Photonics Cluster in 2002 and served until 2011.
Location:  Goergen 101
Refreshments will be served.