Institute alumnus Wade Cook to lead AIM Photonics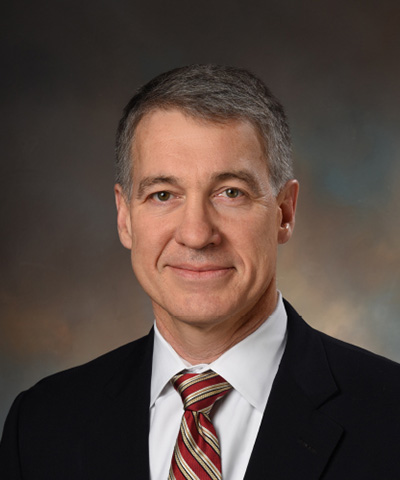 Institute of Optics alumnus William (Wade) Cook '04 (PhD) has been named executive director of AIM Photonics, the public-private partnership of industry and federal and state governments dedicated to advancing photonic integrated circuit manufacturing in the U.S.
"This is very exciting news," says Institute Director Thomas Brown, who serves on the AIM Leadership Council and coordinates University of Rochester River Campus support of the AIM Photonics TAP facility. "Wade is a top-notch choice for the position. After an outstanding military career, he has risen to very responsible executive positions in local optics companies. He has a deep understanding and appreciation for the importance of the optics and photonics industry in Rochester and Upstate New York."
AIM—American Institute for Manufacturing Integrated Photonics—was launched in 2015 and is one of nine manufacturing innovation institutes established by the United States Department of Defense. Its full members—43 major universities and companies—include the University of Rochester and Rochester Institute of Technology. AIM operates through two main facilities, a 300 mm wafer R&D facility at the Albany Nanotech Complex that creates photonic integrated chips, and the TAP facility where the chip wafers are diced, tested, characterized, and attached to wires and fibers.
"After an extensive search, we know that Wade is the right leader for AIM Photonics," says Tod A. Laursen, acting president at SUNY Polytechnic Institute and chairman of AIM Photonics' Leadership Council. "His considerable industry experience, combined with his proven leadership skills, will help strengthen AIM Photonics' position as a technology leader and continue to cultivate the ever-important strategic alliances needed to grow the integrated photonics ecosystem in the U.S."
Cook's industry experience spans more than 20 years of working in optics and photonics, in roles ranging from engineer, to manager, to executive level positions. For the past five years he served as VP of Business Development, then Chief Operating Officer, and most recently as Chief Technical and Commercial Officer at JML Optical Industries, a Rochester-based provider of optical solutions for the aerospace, automotive, defense, medical, life sciences, entertainment, imaging, and semiconductor industries.
Prior to that he served as vice president for research and development at QVI (Quality Vision International), a Rochester company that provides optical, mechanical, electronic, and software technologies for vision and multi-sensor measuring systems.
Cook serves on the Board of Directors for the Rochester Regional Photonics Cluster. He is also an active member of Optica, the Optical Society as well as SPIE, the International Society of Optical Engineers.
"I'm excited to have this chance to contribute to the growth of an industry that's so important to the future of New York and the U.S.," Cook says. "Integrated photonics technologies offer the promise of smaller, better, faster, lighter devices that will significantly improve people's lives and help ensure our country's defense readiness."
Cook served for more than 29 years in the U.S. Army, earning a bachelor of science degree in engineering physics at the U.S. Military Academy in West Point and a master of science in strategic studies at the U.S. Army War College. During his military career, he served in both staff and command positions in the U.S., Italy, Iraq, Bosnia, and Afghanistan. As a reserve officer, Cook also served as a Nuclear Weapons Effect Analyst and Senior Counter-Weapons of Mass Destruction Planner at Ft. Belvoir, as well as a Senior Civil Affairs Planner at the Pentagon.
After completing his active Army service, Cook earned his PhD at The Institute of Optics, studying holography and laser-based metrology in the research group of Nicholas George. "He was a wonderful part of the community and did great work while he was here," Brown says.
The Institute of Optics is the nation's original center of education and academic research in optics, imaging, lasers, photonics, and vision. Over 360 students at the Institute are working toward degrees in optics and optical engineering. Faculty at the Institute have been leaders in AIM Photonics from the time of its launch in 2015 and have played central roles in the design of photonic integrated circuits for biosensing, quantum science, and metrology. They have also played crucial roles in photonics education and workforce development and road mapping.