Icel Sukovaty finds a focus for her future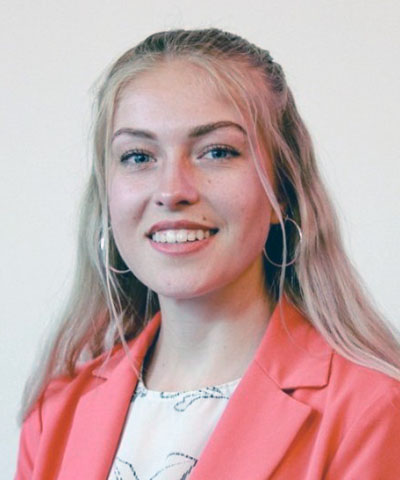 By Bob Marcotte, Communications Officer
University of Rochester undergrad feels 'well prepared' for a career in optics
While growing up on a ranch in Washington, not far from Cascades National Park, Icel Sukovaty enjoyed doing art. She drew a watercolor of glass distorting the image of the mountains behind it.
She also loved math. For her final project in high school calculus, she and a classmate described the angle of inclination of the reflected light that causes a rainbow.
When it came time to look at colleges, Sukovaty and her mother flew to Rochester, NY, to visit one of the two universities highest on her list. During the flight they became engrossed in a magazine article about a new imaging technology to detect cervical cancer, which has been an issue in her family.
At the time, Sukovaty knew very little about optics.
However, these three isolated experiences, like three pieces of a jig saw puzzle, began to fit together the moment Icel and her mother arrived on the University of Rochester campus for her visit.
An undergraduate coordinator from the University's Institute of Optics handed her a flier, and asked "Do you like math and physics?" That caught Sukovaty's attention. So did an Institute faculty member who described working on the Hubble Space Telescope and "a lot of other really super cool things," Sukovaty says.
And that's when the pieces began to fit together.
She and her mother realized that, "Oh, that article we were reading last night, that was optics," Sukovaty recalls. "My calculus final project, that was optics. And the watercolor, that was also optics."
Now that Sukovaty is an optics major at the University, more pieces have begun falling into place for her—at an exhilarating pace.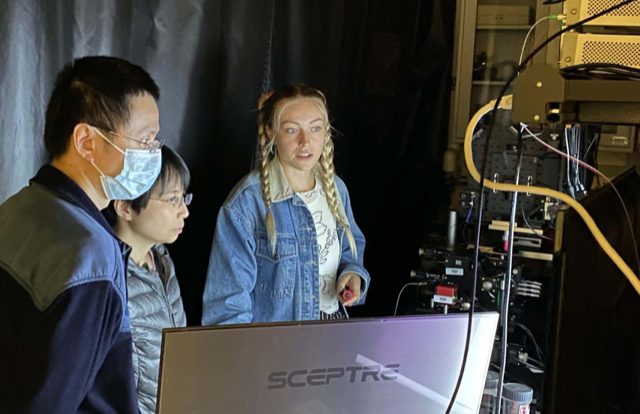 An internship and a research position—in her first year
"I never expected so many opportunities," Sukovaty marvels. "If you told me when I graduated from high school that I would be doing all the things that I've been doing, I wouldn't have believed you at all."
During her very first semester, for example, Sukovaty successfully interviewed for the first of her three internships at Lockheed Martin Space Division, thanks to the Institute of Optics' Industrial Associates (IA) Program. IA members include top optics companies who send representatives to campus each spring and fall. The visits include opportunities for students to interview for internships and fellowships.
"My undergraduate advisor said we should try it out; it would be a great opportunity to practice interviewing," Sukovaty says. "I was super excited when I was actually offered an internship."
Her internships at Lockheed have engaged her in a variety of increasingly technical projects, from helping design a testing procedure for space flight windows, to space-related optical designs.
That first semester, she also applied to do work study at the University but did not make much headway. Her mother suggested she ask a faculty member for advice. Sukovaty approached Thomas Brown, professor of optics (now the Institute director), who she met while running in the Institute's annual 5k race.
"'There's an opening in my lab,' he said. 'You can start next semester.'"
She finds 'everything that I wanted' in her research group
Sukovaty has worked as a research assistant in the lab ever since. Her projects have included design and 3D printing of parts for a microscope setup, splicing and cleaving optical fibers, coupling fibers and waveguides in photonic integrated circuits, and completing and analyzing raster scans of elements on photonic integrated circuits.
"It's a super supportive lab group," she says. "It's everything that I wanted from a research group." In addition to meeting regularly with Brown, she has worked closely with Tyler Howard, a PhD candidate in the lab who has been in charge of most of the projects Sukovaty has been involved in.
Holding down a research assistant's position while also keeping up with a demanding major like optics can be stressful at times. Both Howard and Brown, who has a particularly easy-going manner with his students, have gone out of their way to help reduce that stress, Sukovaty says.
"Earlier in my freshman year, I had a big class assignment due, but I was super nervous about taking a week off from the lab," she says. "But when I went to Tom, he said to definitely take a week off. 'When you're an undergraduate, school comes first.' I really appreciated the flexibility."
She also appreciates Brown's policy of including undergraduates in sharing newly-acquired research skills with other members of the lab. "When someone shows you how, you then do it yourself, and you then teach it to someone else," Sukovaty says. After learning how to splice and clean optical fibers, for example, Sukovaty then taught the technique to another undergrad in the lab.
"That was really a good experience," she says.
Last semester her teaching and communication skills were put to the test. The lab, which works closely with the AIM Photonics consortium, hosted a series of workshops. Sukovaty was tasked with doing three workshops in a row, each two hours long.
"So I was actually able to teach people from other PhD programs and from industry," Sukovaty says. "It really sunk in how what I was doing impacted other people in the world around me."
A culminating moment for Sukovaty was the opportunity to give a research presentation on one of the lab's projects in January at SPIE West, one of the world's largest optics and photonics conferences.
She also was invited to participate on a Jeopardy-style panel discussion at the conference, featuring optics professionals describing their careers.
"On one side were the less experienced people," Sukovaty says. "The person next to me had seven years of experience at Edmund Optics and was a marketing manager. And here I am, 22 years old and I haven't even graduated from college.
"But it was super fun."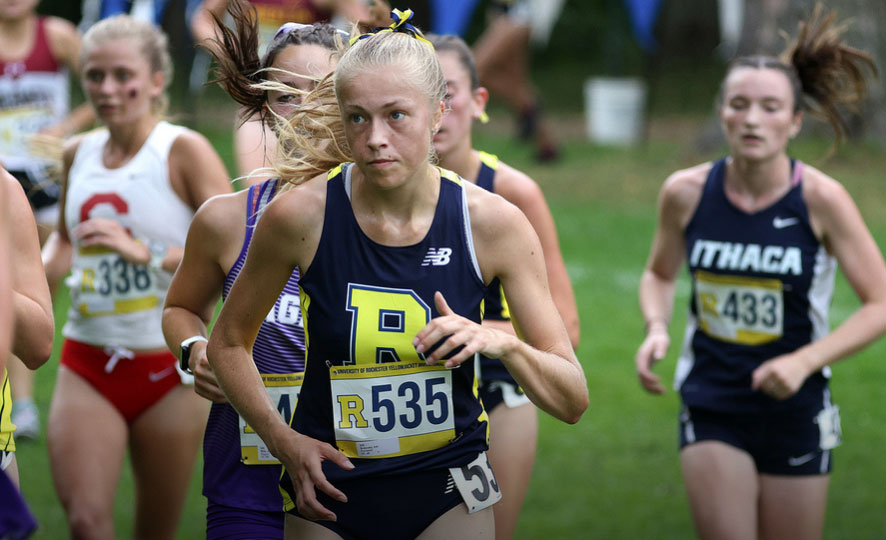 Long distance running provides 'a great mental break'
Despite the demands of classwork and the lab, Sukovaty has found time to pursue another passion. She loves running long distances. Back in high school, she competed in cross country meets along grueling mountain trails in the Cascades.
She participated as a member of the women's varsity track and field team her sophomore year and as a member of the varsity cross-country team her junior year. Sukovaty won University Athletic Association recognition as an Athlete of the Week after finishing fourth overall among 186 entries in a 5K event.
To accommodate the increasing demands of class and lab work, however, she now runs in marathons instead, including the Boston Marathon coming up in April.
"It's a great mental break," she says. "A lot of times I get stuck thinking about different things, and running is really a good way to just shut it all down, and restart everything."
She especially enjoys overcoming the grueling physical challenges involved in completing a 26 mile marathon.
"Your whole body is telling you not to do it," Sukovaty says. "For most of the run you're convincing yourself that it's not going to be that much farther, not that much harder, so that you can keep going, keep pushing yourself.
"It's the mind over matter aspect of it that I really like."
Supportive colleagues inspire her and push her to do her best 
Her experiences at the University and the Institute of Optics have "definitely" prepared her well for the future, Sukovaty says.
She's not only gained valuable lab skills and industry experiences, but confidence in communicating what she's learned to others.
Equally important, Sukovaty has learned the importance of having a support system—"people you are comfortable with, who can not only help you, but also push you to do your best," she says.
Brown and Howard have done that for her. So has Institute alumnus Anthony Yee '13 '16 MS '18 PhD, a senior optical engineer at Lockheed Martin and a key mentor for Sukovaty during her internships. For example, Sukovaty was debating whether to take a particularly difficult graduate level lens design course taught by Julie Bentley, professor at the Institute.
When Sukovaty asked Yee for his advice, he encouraged her to take the course, promising her she would have an opportunity to apply what she learned during her internship the following summer.
"So, I took the class and worked with optical design the next summer, and realized I really love this," Sukovaty says
Bentley is an influential role model, Sukovaty says. In addition to being an outstanding teacher, Bentley is also an internationally recognized consultant in optical design. "She's got an incredible career," Sukovaty says. "I took both of her lens design classes, and though they were the hardest classes I've ever taken, they were also the classes where I learned the most."
As a result of all these experiences, "I've found a place in the optics community where I'd really like to fit in," Sukovaty says
A master's degree and a job at Lockheed Martin are next on her radar
She has applied to enter the master's program at The Institute of Optics this fall, and is now weighing which of several options she will choose to complete the degree while simultaneously working part time for Lockheed Martin.
"Because my job with Lockheed would be in California, I think that would be fun way to spend the first part of my career," Sukovaty says. "But I also think it would be super fun someday to have my own optical consulting company. Julie Bentley has certainly been a big inspiration for me."
But Sukovaty says she will also be open to whatever opportunities come her way.
"Just looking at the way everything has fallen into place for me so far, I really trust that even if I end up doing something I'm not planning on now—even if it means changing what I think my trajectory is now—I will be in a place that I'll really like and is going to support me.
"I'm definitely looking forward to that."