Applying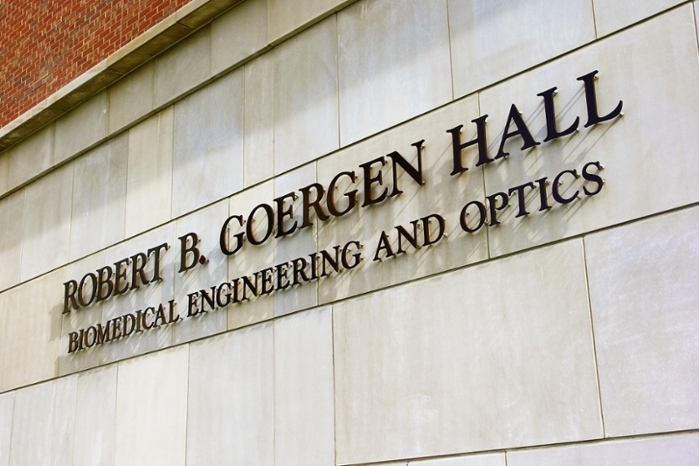 Thank you for your interest in the University of Rochester's biomedical engineering graduate program. Below is information on:
Preparation for the Program
The program is primarily designed for students who have a bachelor's degree in engineering, applied physics, or related fields. 
The undergraduate curriculum should include courses in calculus through differential equations, chemistry, and physics, as well as in-depth training in engineering or the physical sciences. Some formal training in the biological sciences is also desirable.
Students who do not have the required background in engineering or the physical sciences may be admitted to the program, but may need to take additional coursework, typically during the first year of study.
Students for whom English is not a native language are strongly urged to come to Rochester early, in order to prepare for the first-year program.
Admissions
PhD applications are due by January 5th.
MS applications are due by May 15th.  International MS applicants are encouraged to apply as early as possible, preferably by February 1st in order to allow processing of visa applications. Applications received after the deadlines will not receive consideration, even though the system may allow them to be submitted. There is a $70 application fee, which will be waived for applications submitted by December 1st.
     NOTE:  If this fee would cause financial hardship, you may submit a request for a fee waiver before you apply. Our department will evaluate your request to determine if you qualify for the waiver. We will review only your statement. Please do not send any confidential financial documents (including copies of tax returns, bank statements, etc.).
CMTI MS applications are reviewed

on a rolling basis. 

The Center for Medical Technology & Innovation offers a 1yr MS degree program in Biomedical Engineering.  See their website for more information.
Application Materials
In addition to completing the online application, that includes a personal statement and a diversity statement, the following materials must be uploaded to the application: 
Three letters of recommendation (uploaded to the application per instructions)
Official transcripts (minimum GPA is 3.0)
Curriculum vitae

Optional Graduate Record Examination (GRE)

TOEFL (or IELTS) test scores should be uploaded to the application and official copies should be mailed to the University for verification
Other than the test scores, documents that are uploaded do not need to be mailed to the department
Please forward the following information:
Your application number (see page 13 of the online application)
A brief statement explaining why you might qualify for a fee waiver
Financial Support
PhD Support
All students accepted into the PhD program in biomedical engineering are granted financial support in the form of a full tuition waiver as well as a competitive stipend and health insurance coverage. 
Outstanding candidates may also be nominated by the Admissions Committee for special fellowships that are awarded on a competitive basis.
Financial support does not require teaching or laboratory assistant duties beyond those that are integral to the academic program. Instead, students are supported with research funds from his or her faculty advisor.
Student progress is reviewed on a yearly basis, and satisfactory progress must be demonstrated for support to continue.
MS Support
No stipend support is available for MS degree candidates but a limited number of partial tuition scholarships are available.
Full-time MS students who also work as teaching assistants are eligible for a competitive tuition discount (typically around 35%). Federal work-study program funds, government or personal loans, or part-time employment may sometimes be used to meet expenses.
Standardized Tests
Optional Graduate Record Examination (GRE)
Reporting the results of the GRE is optional. We do not consider GRE scores unless you decide to submit them. If you choose to self-report these results, the institution code is 2928 and the department code is 1603.   Deciding not to submit GRE scores will not harm your application in any way.

Test of English as a Foreign Language (TOEFL)
All foreign applicants whose native language is not English must take the TOEFL and achieve a minimum score of 250 for the computer-based test (CBT), 600 for the paper-based test (PBT), or 100 for the Internet-based test (IBT), unless they are graduates of a US undergraduate program. IELTS scores can be accepted in place of the TOEFL with a minimum score of 7.0. The institution code is 7267. Since there is no department code for biomedical engineering, please use the following codes:
45 for biomedical sciences
69 for other engineering
99 for department not listed
Questions and Contact Information
If you're interested in learning more about biomedical engineering at the University of Rochester contact Graduate Program Coordinator, Marianne Arcoraci, at marianne.arcoraci@rochester.edu or (585) 275-3891.
For questions about the CMTI MS degree contact Mahllet Beyene, CMTI graduate program coordinator, at mahllet.beyene@rochester.edu.