Overview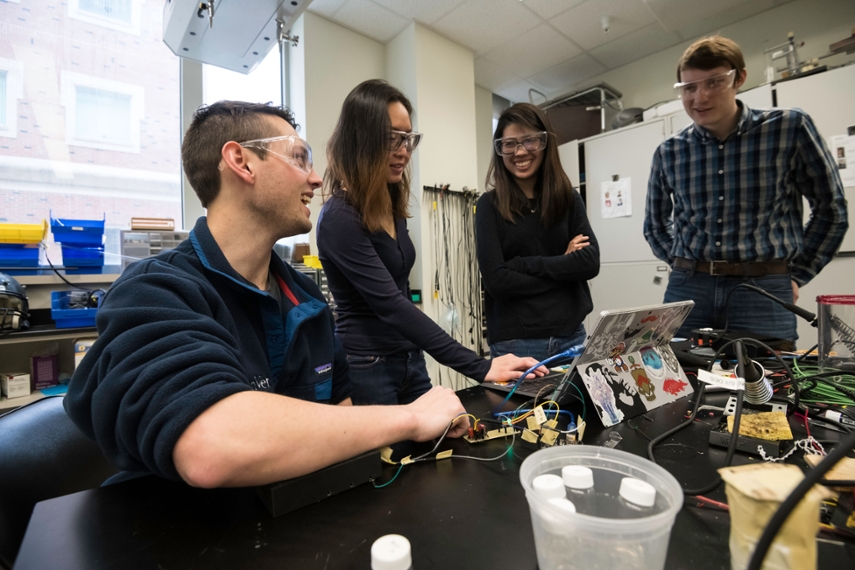 The University of Rochester's bachelor of science (BS) program in biomedical engineering is accredited by the Engineering Accreditation Commission of ABET, www.abet.org.  ABET-accredited designation assures confidence that a collegiate program has met standards essential to prepare graduates to enter critical STEM fields in the global workforce. Graduates from an ABET-accredited program have a solid educational foundation and are capable of leading the way in innovation, emerging technologies, and in anticipating the welfare and safety needs of the public.
Our students are equipped with the biomedical engineering knowledge, technical expertise and professional skills essential for successful careers ranging from engineering practice in industry or clinical settings to advanced research. Graduates are also well prepared for graduate education including PhD programs and medical school or other health professions. 

The overall objective of our program is to develop effective practitioners in biomedical engineering and associated fields. Our curriculum emphasizes experiential learning, hands-on engineering training and a rigorous educational process, culminating in the year-long senior design course in which students collaborate with clinicians and companies to design engineering solutions to real-world problems.

Curriculum Overview
Our curriculum emphasizes fundamental engineering and design principles taught in the context of current problems in medicine and biology. The University of Rochester offers several avenues of academic study in biomedical engineering, each of which can be structured to satisfy pre-medical or pre-dental requirements. A series of nine core courses provides a solid foundation in engineering principles of biomedical engineering practice. To ensure in-depth training in engineering, our students are required to complete a sequence of four courses in a focus area of biomedical engineering. These areas of concentration are:
Biomechanics

Biosignals and Biosystems

Cell and tissue engineering

Medical optics
Senior Design Program
The Biomedical Engineering Senior Design Program
introduces students to a systematic, customer-driven approach to engineering design. Over the course of their final year, undergraduate students develop prototypes of medical devices or research instruments, develop a formal design proposal, participate in formal design reviews, develop physical prototypes, test their devices, and present them on Design Day. Several student senior design projects have resulted in patents or start-up companies.
Undergraduate Research Opportunities
As part of a top-tier research institution, the University of Rochester biomedical engineering program is committed to providing our undergraduates with meaningful exposure to the research process. Several of the BME core courses provide a guided approach to the research process through course projects, and many students supplement their curriculum with summer research experiences or independent study courses. Our students have opportunities to work side by side with award-winning faculty and research leaders at the University of Rochester to make significant contributions to biomedical research fields including biomechanics, biomedical acoustics, biomedical nanotechnology, biomedical optics, cell and tissue engineering, medical imaging, and neuroengineering.
Learn more about opportunities for undergraduate research here.
Quick Links
Questions?
Contact Taimi Marple, undergraduate program coordinator, at taimi.marple@rochester.edu or (585) 273-4754.