Beloved graduate program coordinator Donna Porcelli retires after 42 years at University, 17 years in BME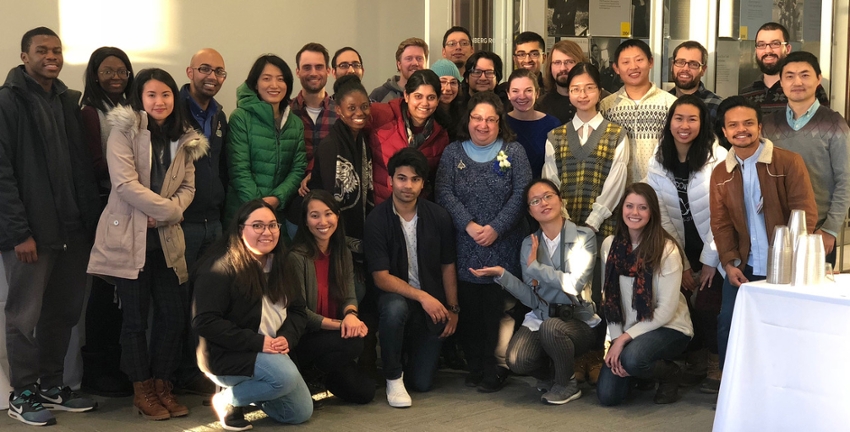 Donna Porcelli has embarked on a well-earned retirement -- despite the strong reservations of Professor James McGrath and no doubt many other faculty members in the Department of Biomedical Engineering.
"It's a bad decision," McGrath deadpanned, drawing laughter from more than 90 well-wishers who gathered recently to honor Porcelli, the department's graduate program coordinator, at a farewell party in the Eisenberg Rotunda.
"The reason that we can't come to grips with this is we can't imagine the department without you," said McGrath. "We've never had a department without you."
After joining the University in 1976, Porcelli spent 25 years in the Department of Chemical Engineering, working her way up the ranks from secretary to administrative assistant. She handled nearly every aspect of the department's budget and its undergraduate and graduate programs at one time or another. Along the way, she accumulated a wealth of knowledge about departmental procedures and university policies.
So, she was a godsend when she joined the newly formed Department of Biomedical Engineering in 2001.  At the time it had a department chair, four brand new junior faculty members, and one other staff person.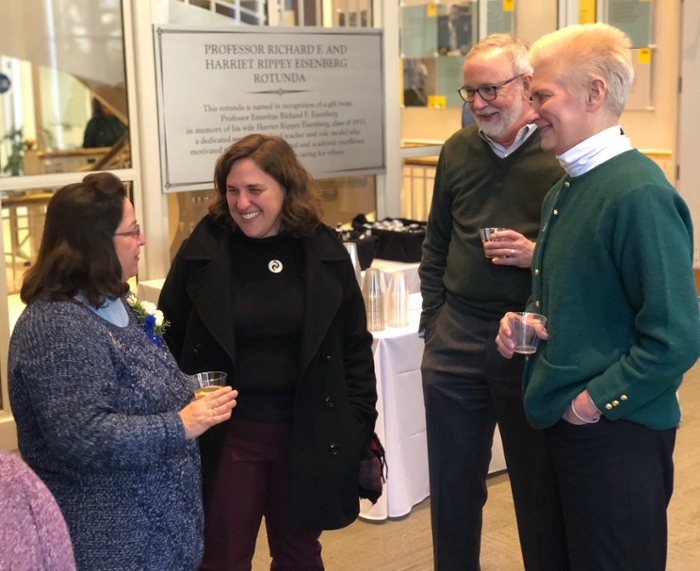 "We were all newbies," said Richard Waugh, the department's founder and first chair. "I had never been a department chair, none of the faculty had been faculty before, and Donna was the one who provided us with the guidance and the knowledge it took to really build this department into what it is today."
"We had a lot of enthusiasm in those early days, but a little less respect for the fact that there were traditions and rules and other things that we had to follow," McGrath said. "(Donna) made sure we didn't step out of bounds."
Initially, Porcelli's duties included administering the graduate program and faculty grants, assisting with the budget, and "pretty much administrating a new faculty search every year – so basically everything," current chair Diane Dalecki recalled.
"When I was a new assistant professor, Donna's vast knowledge was simply invaluable to me in recruiting and advising graduate students, submitting grant proposals, and navigating ORPA (Office of Research and Project Administration), UCAR (University Committee on Animal Resources) and every other acronym that is new to a new faculty member."
Porcelli, who received a University Witmer Award for Distinguished Service in 2017, has had her biggest impact in recent years as the department's graduate program coordinator. That included traveling each year to the BMES annual meeting as part of her efforts to recruit students; tracking master's students, PhD candidates, and postdoctoral fellows every step of the way through their programs; scheduling graduate student committee meetings; and handling graduate student payroll.
Graduate student Christine Massie praised Porcelli for going "above and beyond" in helping her students. "We are constantly going into her office with either really big things, like preparing a (thesis) defense, or stressing over something little, like how to do a title page. Donna is always there for us."
Raul Rodriguez drew laughter when he insisted, tongue-in-cheek, that "I'm Donna's favorite student, ever, in all the 17 years she's worked in the department. She told me."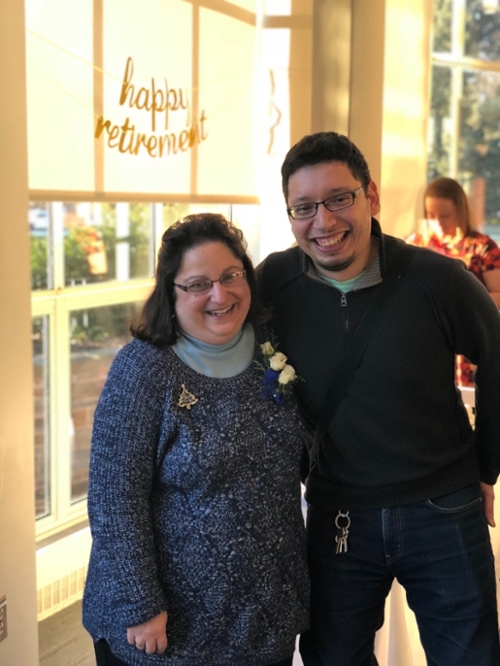 On a more serious note he described how "every time I had question I would come to you and you would solve it. Every time I went on a graduate student recruitment weekend, I would tell recruits that I attribute a lot of what I love about this graduate program to Donna."
Carla Boff, the department's lead administrator, praised Porcelli for helping create a "warm, wonderful, professional" atmosphere in the department. She described Porcelli's work ethic: 10-hour days, plus weekends when needed, helping at events when "she doesn't even have to."
"She's just the best resource ever."
Porcelli acknowledged that retirement is a big step for her, but that she's looking forward to some free time. "I have a lot of great memories," she said. "These last 17 years in BME have been a wonderful experience."