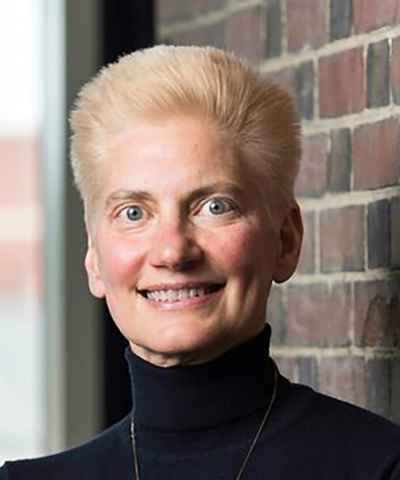 Diane Dalecki
Kevin J. Parker Distinguished Professor in Biomedical Engineering
Professor of Biomedical Engineering
Professor of Electrical and Computer Engineering
Director, Rochester Center for Biomedical Ultrasound
PhD, University of Rochester
308 Goergen Hall
(585) 275-7378
Fax: (585) 276-1999
diane.dalecki@rochester.edu
---
Biography
Diane Dalecki, PhD is a professor of biomedical engineering, and electrical and computer engineering at the University of Rochester. She is also the director of the Rochester Center for Biomedical Ultrasound. Professor Dalecki's laboratory is dedicated to advancing the use of ultrasound in medicine and biology. Primary goals of the laboratory are to develop novel diagnostic ultrasound techniques and discover and advance new applications of ultrasound for therapy and tissue engineering. She is a fellow of the American Institute of Ultrasound in Medicine (AIUM), the Acoustical Society of America (ASA), and the American Institute of Medical and Biological Engineering (AIMBE). Professor Dalecki completed her BS in chemical engineering, and MS and PhD in electrical engineering from the University of Rochester.
Research Overview
The Dalecki Laboratory is dedicated to advancing the use of ultrasound in medicine and biology. Primary goals of the laboratory are to advance novel diagnostic ultrasound techniques, and to discover and develop new therapeutic applications of ultrasound. Research in the Dalecki Laboratory is highly multidisciplinary and spans the fields of biomedical ultrasound, acoustics, medical imaging, cell and tissue engineering, and biomechanics. Areas of focus include:
Diagnostic ultrasound imaging
Therapeutic applications of ultrasound
Low frequency underwater sound fields
In the Dalecki Lab, efforts concentrate on identifying the molecular, cellular, physiological, and physical mechanisms for the interaction of ultrasound fields with biological tissues. Knowledge of basic mechanisms facilitates the safe and effective development of new diagnostic and therapeutic ultrasound techniques. 
Current and Recent Sponsored Projects
Mechanisms for Wound Healing with Ultrasound Sponsor: NIH (R01EB008996)
"Ultrasound Technologies for Tissue Engineering" Sponsor: NIH (R01EB008368)
"Dynamic Response of Constrained Bubbles to Acoustic Excitation" Sponsor: NSF (CMMI-0652947)
"Effects of Underwater Sound on Biological Tissues" Sponsor: U.S. Navy
"Cardiovascular Effects of Ultrasound Contrast Agents" Sponsor: NIH (R01HL69824)
Research Interests
Biomedical ultrasound, acoustics, lithotripsy, biological effects of ultrasound.