Team
Basil T Gaji
Mahin M Ghani
Mentor
Jack Mottley, Daniel Phinney
I. INTRODUCTION
Abstract
AGR currently makes use of an external sensor driver board for their AGR Spectrometer (Spectre). Since the board is not designed in-house, it cannot be customized to provide the best performance and accuracy which impacts the scalability of Spectre as a high-performance measurement device.
Our sensor driver board addresses this problem with a design that is intentionally done, stripping away unnecessary components and adding ones that improve performance and reduce costs. Our design also allows for continuous development and improvement.
II. DESIGN
PHYSICAL DESIGN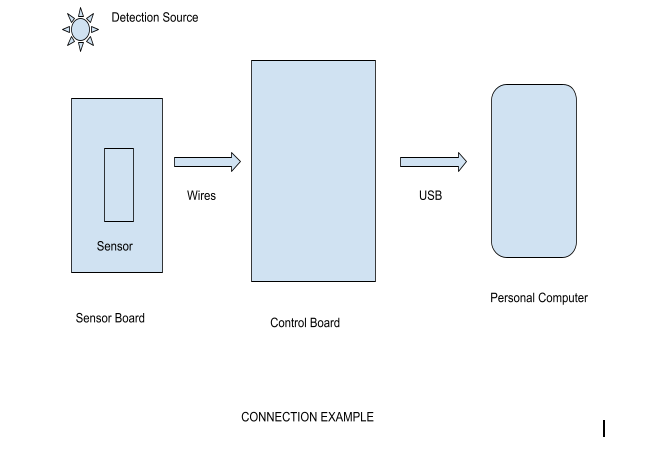 CIRCUIT BLOCK DIAGRAM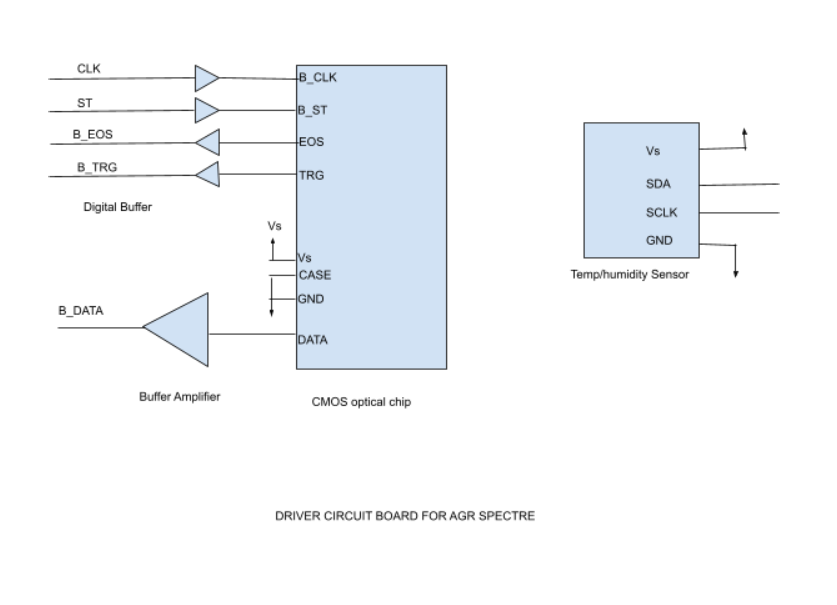 FUNCTIONAL OVERVIEW
Spectre Sensor:
This is the main sensor/AGR Spectre sensor
Buffer Amplifier:
An increase in the current consumption at the data output terminal also increases the chip temperature and so causes dark current to rise. To avoid this, we connect a buffer amplifier to the data terminal so that the current flow is minimized.
Digital Buffers:
The digital buffers serve as buffers for input signals to the main Spectre sensor and output signals from the sensor.
Temp/Humidity Sensor:
This is a secondary sensor on the driver board that aids calibration during optical measurements since temperature and humidity are critical factors to the device's measurement accuracy.
HIGH-LEVEL REQUIREMENTS LIST
Sensors
Buffer Amplifiers
Voltage Regulators
Board level input/output
LEDs
SCHEMATIC DESIGN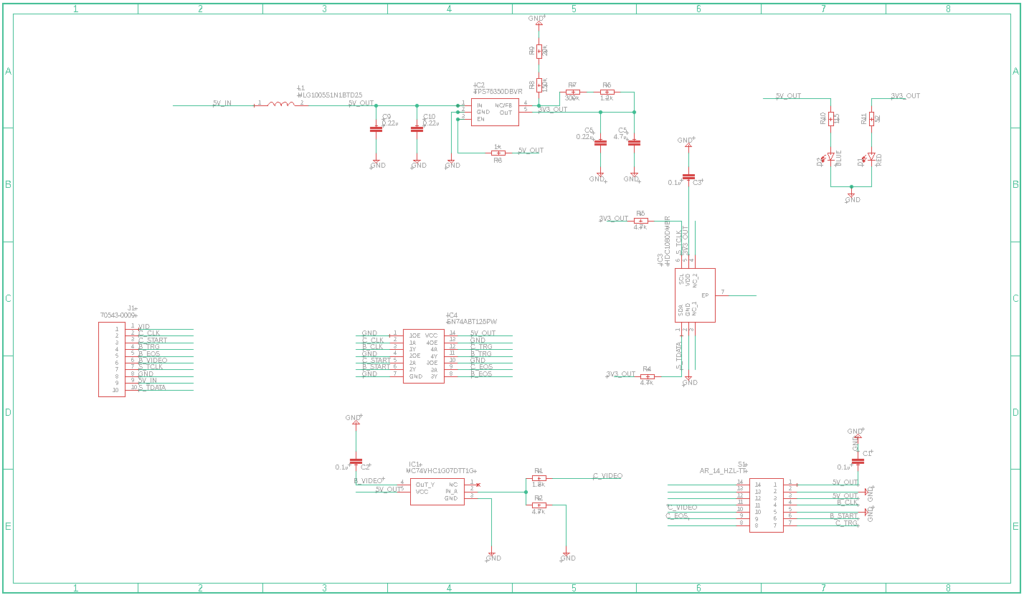 PHYSICAL BOARD LAYOUT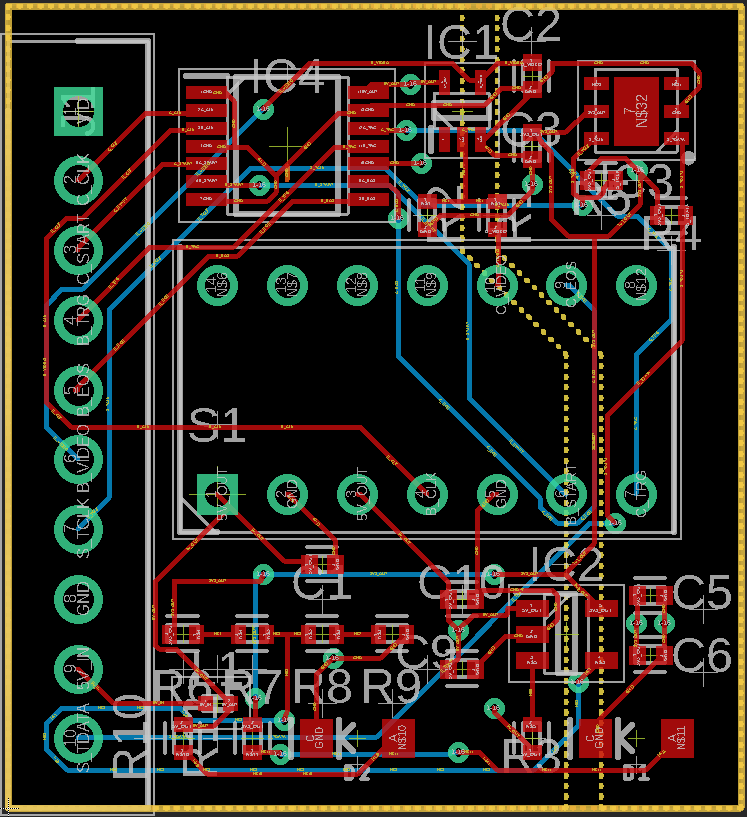 BOARD CAD MODEL
BILL OF MATERIALS
The following is a non-exhaustive BOM. However, the most relevant components are included here. Not included are non-active elements such as resistors and capacitors and the Spectre sensor.
| | | |
| --- | --- | --- |
| PART # | DESCRIPTION | UNIT COST |
| HDC1080DMBR | ±2% RH 0 ~ 100% RH Humidity, Temperature I²C SMD Humidity Sensors/Temperature and Humidity Sensors ROHS | $2.86 |
| 70543-0009 | Pin Header, Wire-to-Board, 2.54 mm, 1 Rows, 10 Contacts, Through Hole Straight, SL 70543 Series | $1.64 |
| TPS76350DBVR | Low Dropout Regulators(LDO) SOT-23-5 RoHS | $1.50 |
| MLG1005S1N1BTD25 | 1000mA 1.1nH ±0.1nH 30mΩ 0402 Inductors (SMD) ROHS | $0.65 |
| SN74LVC1G17DCKR | 74LVC 1 Buffers,Non-OppositeSide 1 SC-70-5 Buffers / Drivers ROHS | $0.32 |
| SN74AHCT125PWR | 74AHCT 1 Buffers,Non-OppositeSide 4 TSSOP-14 Buffers / Drivers ROHS | $0.72 |
| AR_14_HZL-TT | CONN IC DIP SOCKET 14POS TIN | $0.80 |
| NCD1206B1 | Blue 1206 Light Emitting Diodes (LED) ROHS | $0.03 |
| 15-21/R6C-FQ1R1B/2T | Red 1206 Light Emitting Diodes (LED) ROHS | $0.04 |
CONCLUSION
We found that the total cost of manufacturing, assembling and shipping our board even in much smaller quantities is about 66.6% cheaper than the cost of AGR purchasing a similar board from other market suppliers. At the time of writing, the board was not yet in hand so we couldn't carry out performance tests to inspect improvements.