Conclusions
Team Dementors was able to develop a safe, reproducible, and intuitive packed-bed reactors system that is bound to enrich the undergraduate ChE Laboratory experience at the University of Rochester. The system consists of gas manifolds that connect to four reactors, a tube furnace that offers uniform heating of the reactors, a drying tube downstream of the reactors to extract product water, and a GOW-MAC GC, which was repaired by Team Dementors, for product analysis. The developed system offers undergraduate students the tools necessary to investigate heterogeneous reactions, allowing them to generate results similar to the ones shown in Figure 18.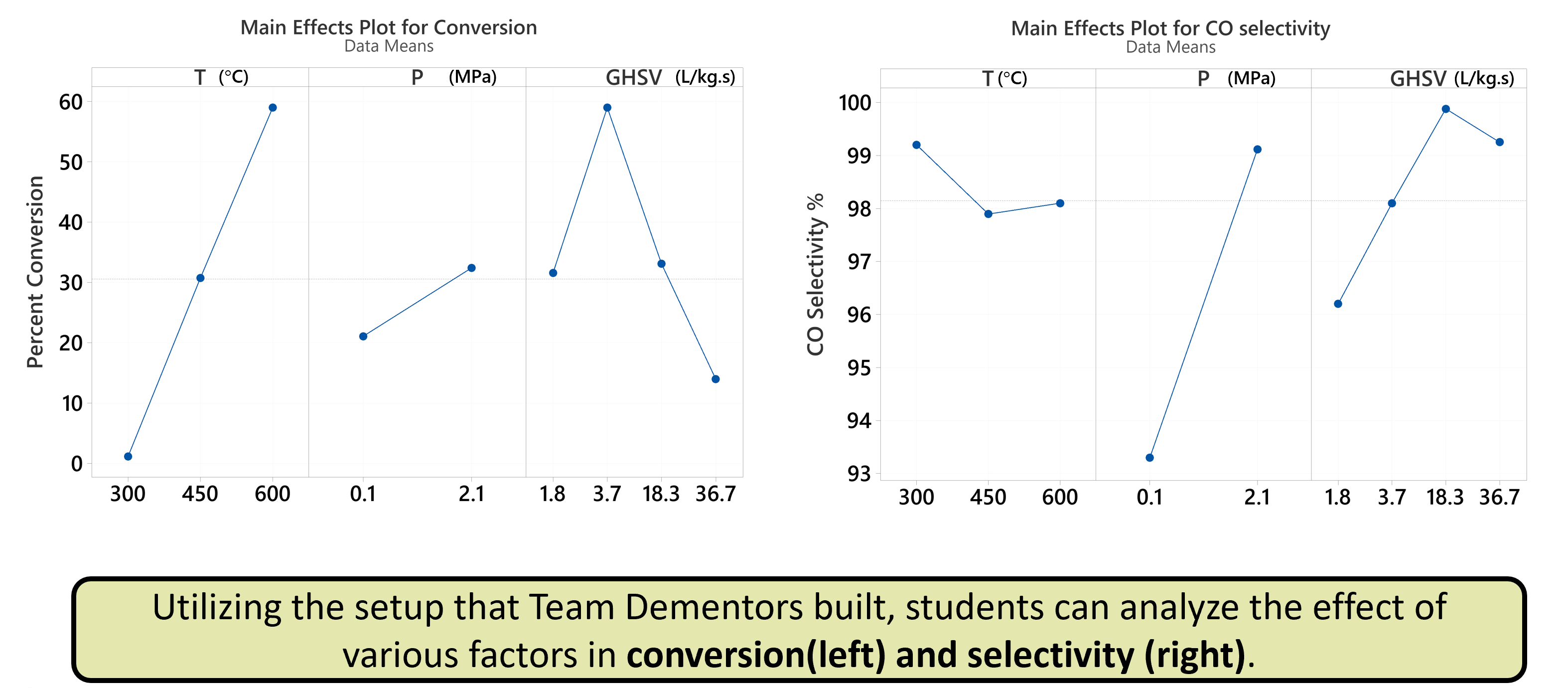 Future Work
Replace needle valves with ball valves at reactors entrance/exits.
Adapt a drying bed with higher operating pressures or install heating tape downstream of reactors.
Install flow meters with high operating pressures upstream of the reactors.
Use a heating block rather than a tube furnace for departmental needs.
Use catalysts that require minimal preparation time.
Install a sliding door to inhibit the students from accidentally touching hot tubing.
Acknowledgments
We would like to thank the Project Sponsor, Professor Marc Porosoff, for his invaluable feedback and flexibility throughout the semester. The team expresses its special thanks to the ChE 255 instructors' team for their availability, support, and feedback. Thanks to Professor Melodie Lawton and Professor Fred Kelley for their regular feedback and for helping us steer the project in the right direction at several points in the semester. Thanks to Rachel Monfredo for all her help, especially with creating the columns and replacing the TCD filaments for the GOW-MAC GC. Thanks to Clair Cunningham for his help with the amplifier circuit that allowed us to obtain a signal out of the GOW-MAC GC. Special thanks to Jeffrey Lefler for his help with sourcing many of the materials needed for this build project.
References
[1] Juneau, M., Vonglis, M., Hartvigsen, J., Frost, L., Bayerl, D., Dixit, M., . . . Porosoff, M. D. (2020). Assessing the viability of K-MO2C for reverse water–gas shift Scale-up: Molecular to laboratory to pilot scale. Energy & Environmental Science, 13(8), 2524-2539. doi:10.1039/d0ee01457e