Team and Specialty
The team is comprised of Julia Schroth and Matt Izard. We completed our clinical observation experience in the Neurosurgery Department at the University of Rochester Medical Center.
Medical Condition
Our device would be used in patients with lumbar spinal instability who are undergoing a spinal fusion procedure. Spinal instability can result from degenerative disk disease, traumatic vertebral fracture, compression fractures, spinal stenosis, and any surgical procedure which might compromise spinal stability such as a tumor removal. These patients would want increased rates of spinal fusion to decrease post-operative pain and the potential for surgical reintervention in the case of a non-union or implant movement.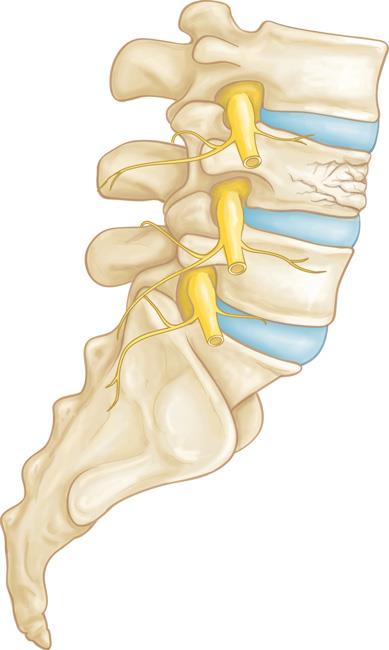 Surgical Problem
Percutaneous spinal fusions have a non-union rate of about 30%, compared to open approach fusions which only have a 10% non-union rate. A major cause of the lower rate of fusion in the percutaneous approach, is inability to decorticate the bone and delivery bone graft to prepare the vertebrae to fuse. Without decortication to trigger the bone healing cascade, and bone graft to bridge the gap between vertebrae, the bones are less likely to fuse. If the vertebrae do not fuse there is the potential for post-operative pain and a second surgery to correct the fusion.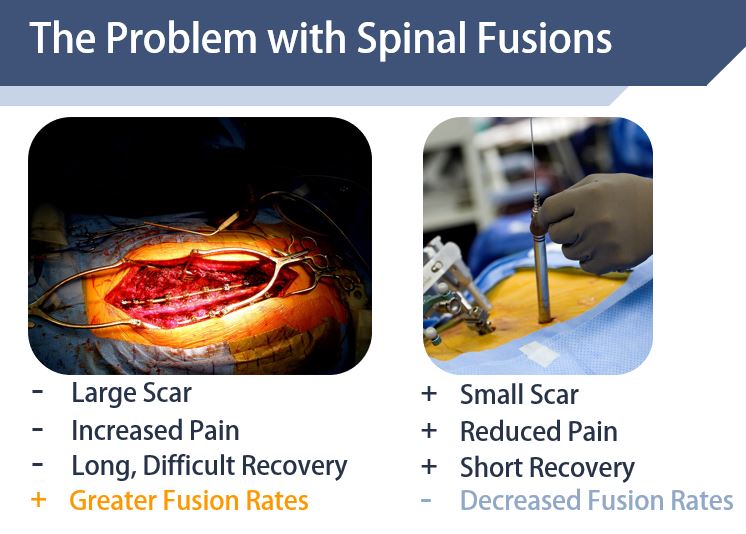 Our Solution
Our solution is a spinal surgical instrument, the PercuFuse System. This device brings the decortication and bone grafting benefits of open spinal fusions while maintaining a minimally invasive approach and the benefits of this technique. The PercuFuse System is used in conjunction with current percutaneous pedicle screw instrumentation to provide decortication and bone graft delivery to increase spinal fusion rates.
Market Opportunity
The global spinal fusion market size is estimated to be $8.45 billion in 2026. In the United States, there are about 1.6 million spinal fusions performed annually, with about 10% being performed minimally invasively or percutaneously, so there are about 162,000 procedures relevant to our product a year in the United States (ReportLinker, 2020). Our team has developed a business plan for the launch of the PercuFuse device, and we have made it to the finals of the Mark Ain Business Plan Competition.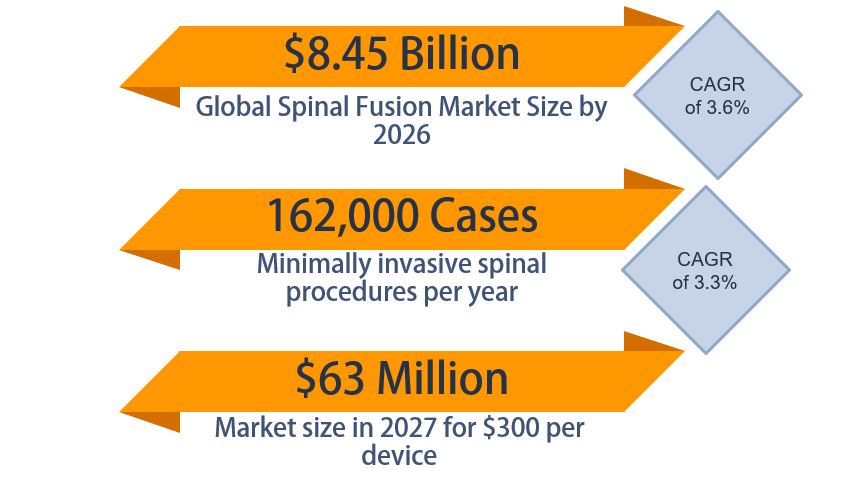 BioDesign Statement
A tool to decorticate and deliver bone graft to the facet joint in a percutaneous lumbar spinal fusion procedure to decrease rates of nonunion while maintaining minimal soft tissue dissection.
Major Design Requirements
The decortication tool must withstand 80N of downward force.
The device must not require an incision greater than 3 inches.
The device must remove at least 1mm depth of articular cartilage.
The device must remove at least 1mm depth of cortical bone.
The device must reach at least 50% of the desired decortication area as defined by Dr. Stone and Dr. Mattingly.
The decortication tool must fit within the articulating facet joint space.
The device must be able to deliver a bone graft to the decorticated area.
The device must be radiopaque and able to be x-ray guided.
Prototypes
Early prototypes were made from cardboard, plastic, and CAD drawings. Following design iterations, prototypes were made of stainless steel and plastic parts. Final prototypes were made of stainless steel tubes and rods welded together, carbide titanium burrs, and 3D printed handles. These prototypes included laser etched markings and a thumbscrew to control depth. The final prototypes were both true to size and had the required mechanical properties of the device.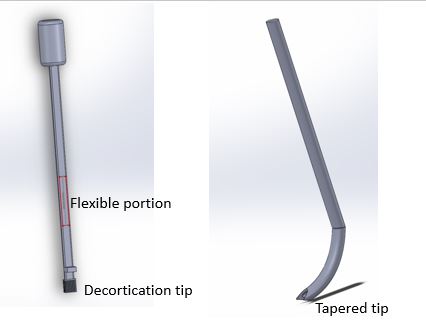 Testing
Early prototypes were tested for feasibility in a gelatin and vertebrae model. An improved benchtop model was made from porcine ribs and PVA hydrogel to better replicate the mechanical properties of human bone and cartilage for functional testing. To test if the tool could reach the desired anatomical regions, testing was done in a 3D printed vertebrae model. Final testing occurred in a human cadaver at the University of Rochester Medical Center Neurosurgery Skills Lab.
Regulatory Strategy
Our device would be a Class I Exempt surgical device under the product code LXH. Per Pre-Submission meeting with the FDA, benchtop and cadaver testing would be performed for FDA clearance, but it is unlikely any animal testing or clinical trials would be required.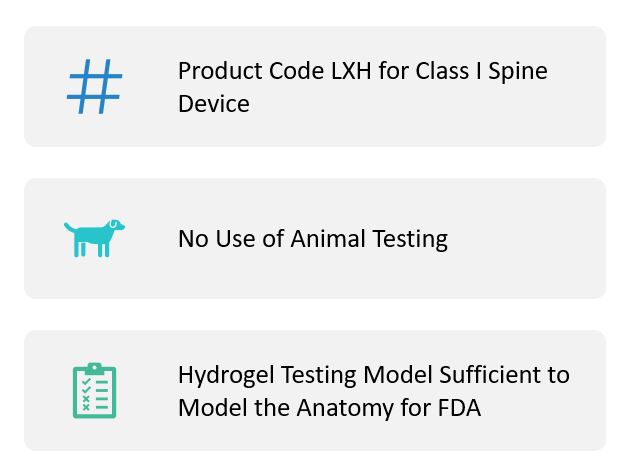 Conclusions
The PercuFuse device is a promising solution for providing decortication to the facet joint space during minimally invasive fusion.
There is space for patentability and freedom to operate for this device.
The market potential for this device is large and wide-open due to hospital reimbursement procedure.

Acknowledgments
Auburn Bearing & Manufacturing
URMC Neurosurgery Skills Lab
Thanks to Dr. Greg Gdowski and Martin Gira for being our project advisors and their help through the design process. Thanks to Dr. Jonathan Stone and Dr. Thomas Mattingly for providing voice of the customer feedback and clinical expertise. Thanks to Auburn Bearing & Manufacturing for prototype machining support. Thanks to the URMC Neurosurgery Skills Lab and Dr. Jonathan Stone for the opportunity to perform cadaver lab testing.
References
ReportLinker. (2020, November 5). Global Spinal Fusion Devices Industry. Retrieved April 2, 2021, from http://www.globenewswire.com/news-release/2020/11/05/2120674/0/en/Global-Spinal-Fusion-Devices-Industry.html