Meet the Team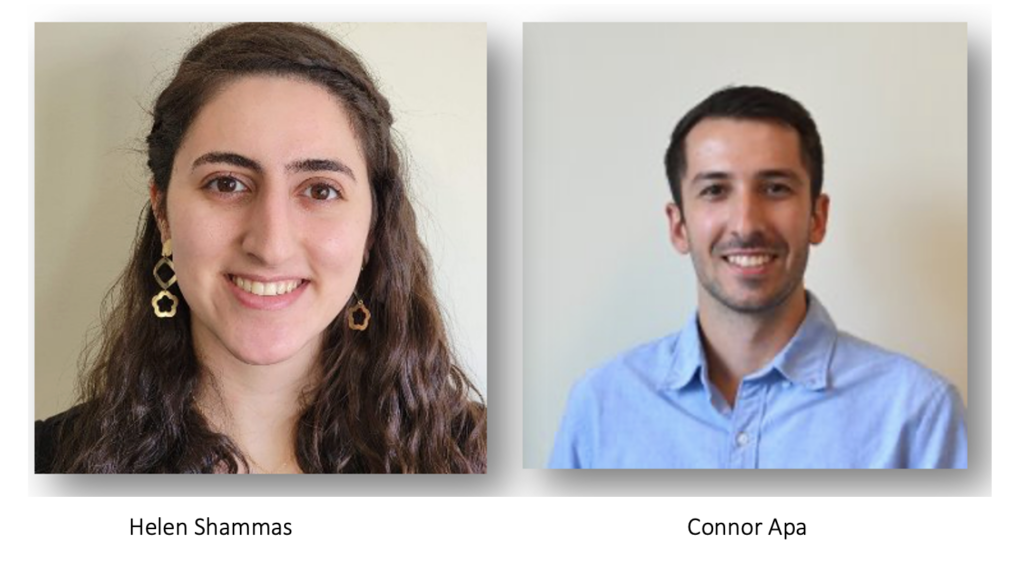 Background
Wedge Deformities: Also known as the Wedge Effect. Characterized by the distraction of the proximal femur and lateralization of medullary nails within the femur. ​
​
Why is it a Problem?​
Fracture becomes fixed in varus reduction​
Changes biomechanical fixation parameters​
Leads to implant failure or revision surgery

Clinical Scenario
How Does it Happen?​
Region of dense bone in superolateral femoral neck deflects path of reamer​
Only visible upon full insertion of medullary nail, surgeon must repeat reaming step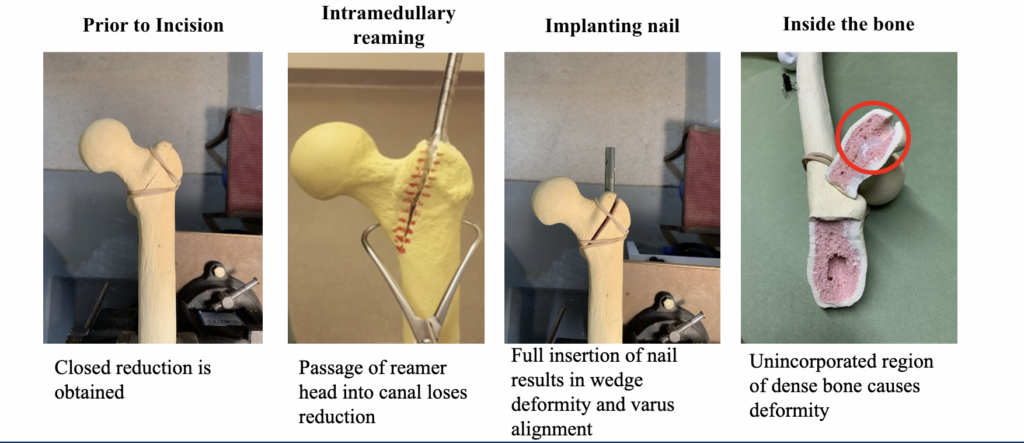 Gaps in Current Solutions:​
Increased physiological burden​
May require an assistant to manually hold instruments​
Solutions are implemented only after the problem occurs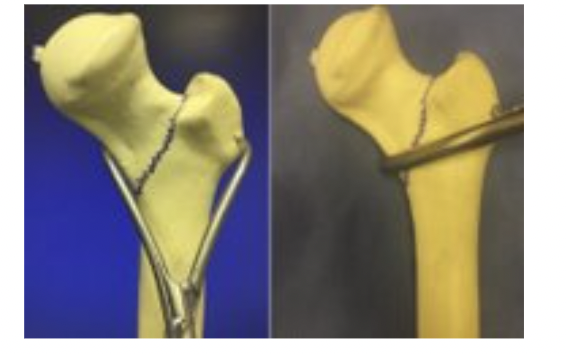 Market Opportunity​
Total addressable market: $6.4 billion global hip fracture treatment
Serviceable available market: $2.52 billion in spent on costs associated with hip fracture treatment with IMN
Serviceable obtainable market: $9.3 million (1800 devices and 150,000 disposables)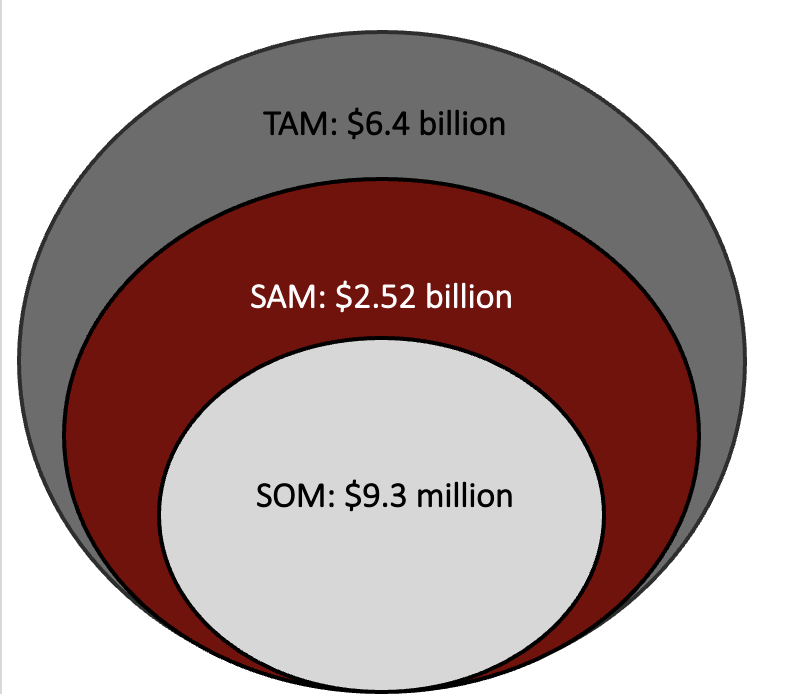 The Solution
The WedgeWise Clamp: An orthopedic clamp for reducing fragments of the proximal femur during IM reaming​
Components:​
A: Stainless Steel Head Piece​
B: Stainless Steel Nut​
C: Polyethylene Body​
D: Polyethylene Handle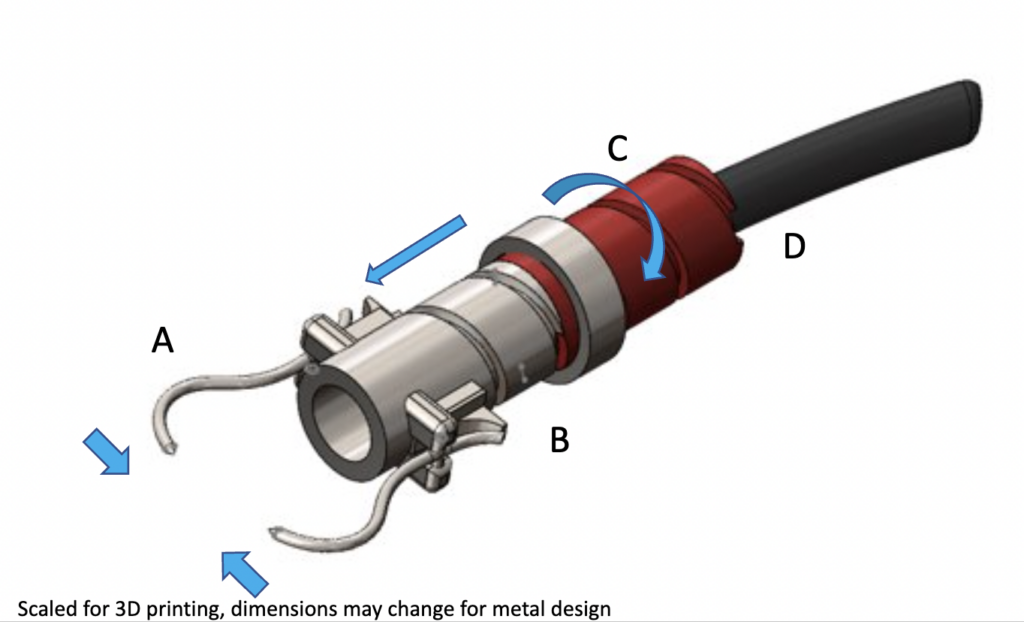 How it Works:​
Tightened into place around tip of trochanter ​
Body component extracted​
Handle and body removed from surgical site​
Cannulation allows reaming to take place unobstructed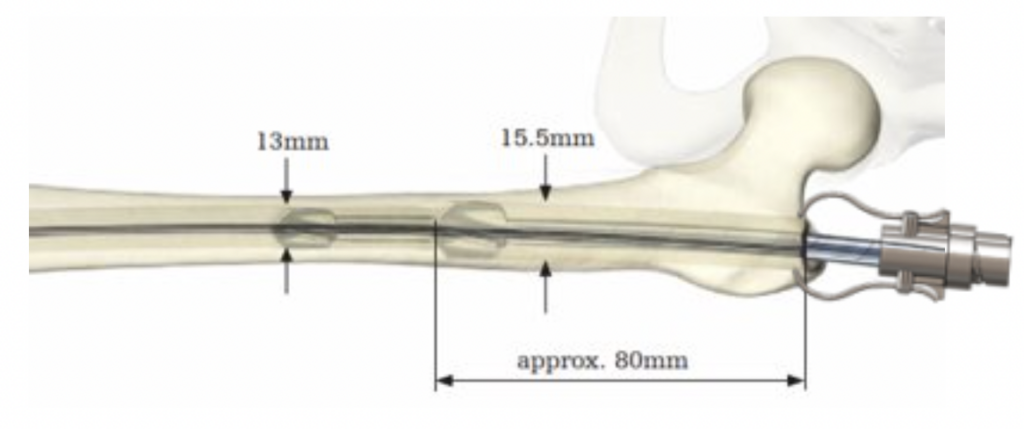 Advantages:​
No additional incisions ​
Does not require an assistants help ​
Designed to prevent wedge deformities from occurring in the first place
Proof of Concept Testing
Comparing Clamping Forces: Placing a calibrated pressure sensor in the wedged bone fracture and taking repetitive​ measurements for the different clamping methods. ​
Results: Significant difference between clamping ​ and no clamping ​ Non-significant difference between metal clamp ​ and our prototype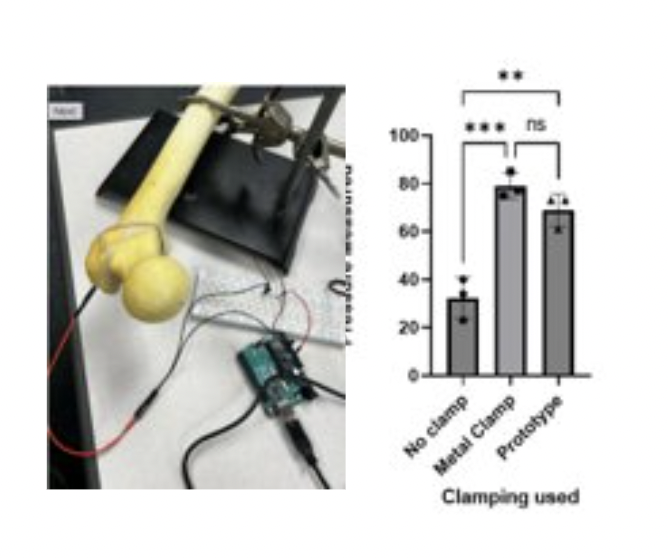 Comparing Wedge Size Detection: Placing a calibrated pressure sensor with known reference values to wedge size and taking repetitive measurements for the different clamping methods ​ ​
Results: Significant difference between clamping and no clamping for P ≤ 0.0001 ​. Significant difference between the metal clamp and prototype for P ≤ 0.05 ​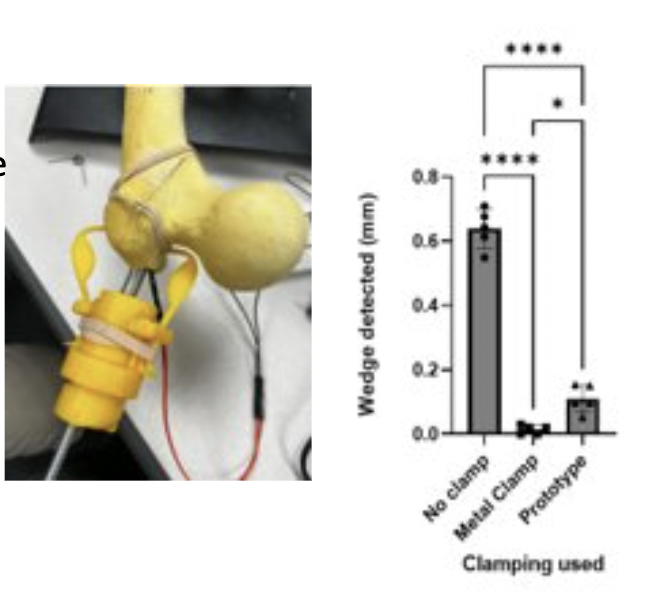 Next Steps
Regulatory Pathway: ​
Class II Device – CFR 878.4800, product code -HXD​
510(k) Pathway​
Testing:​
FDA required testing following the Standard Specification and Test Methods for External Skeletal Fixation Devices, cortex clamp ( ASTM F 1541, 6.1.4 )​
Future improvements:​
Machined prototyping ​
Anatomical validation testing​
Clinical Research ​
Acknowledgments
Greg Gdowski (Executive Director of CMTI)
Marty Gira (Senior Research Engineer
Amy Lerner (Professor of Biomedical Engineering)
Dr. Sandeep Soin (Orthopedic Surgeon)
Dr. David Mitten (Orthopedic Surgeon, Business Coach)