Team
Xiaoen Ding
Jiecheng Gu
Sung Beom Park
Joseph Smith
Mentor
Ajay Anand
Sponsor
Lisa Altman
Gretchen Briscoe
Abstract
The Goergen Institute for Data Science wants to understand the types of institutions and programs that students are choosing to attend. Thus, the goal of this project is to better understand our applicant pool and the programs that are our main competition, assist in marketing and future recruitment, and finally to predict which applicants will accept our offer. To deliver against this goal, the team employed various exploratory data analysis techniques and visualizations to it easier for people of non-data science background to understand. In addition, the team used classification models such as Decision Tree, Logistic, Naïve Bayes, K-Nearest Neighbors, and Random Forest to ultimately predict if admitted applicants would accept our offer. The team was able to deliver powerful and insightful recommendations to the department in potentially increasing the accepted yield of the GIDS.
Data Set
GIDS Admissions Data (2015 – 2021)
Clearinghouse Enrollment Data
College Rankings Data
Background

Exploratory Data Analysis
When do applicants create their applications?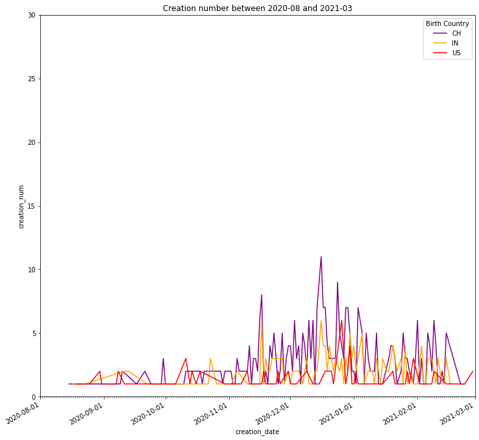 The Chinese applicants tend to create their application earlier in November, 2021. The Indian and American applicants tend to create their application starting from December.
2. When do applicants finish their applications?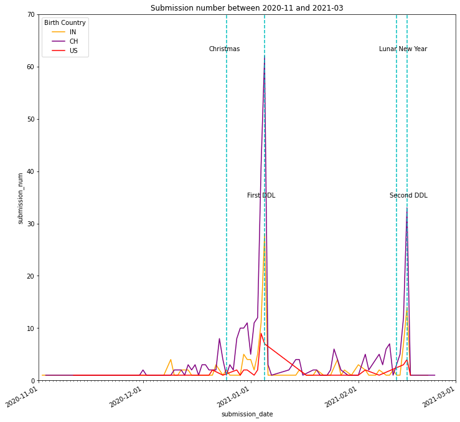 The submission number per day for applicants from the three major countries. The number of submissions is more related to the deadlines comparing to the holidays. We have the highest submission number on deadlines and a couple of days before it. The pattern of submission for applicants from the three major countries is close.
3. How quickly do applicants submit their application?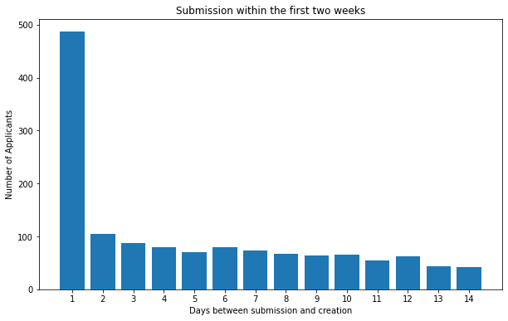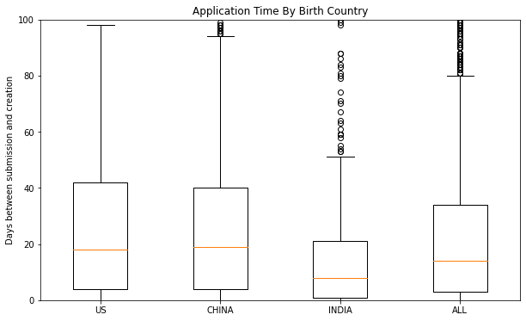 Most applicants finish their application on the day they create it.
Half of the applicants submit their application in two weeks and nearly 86% of the applicants finish the application in 50 days.
It takes Indian applicants a shorter time to complete the application.
4. What can you tell me about the people who don't finish applications?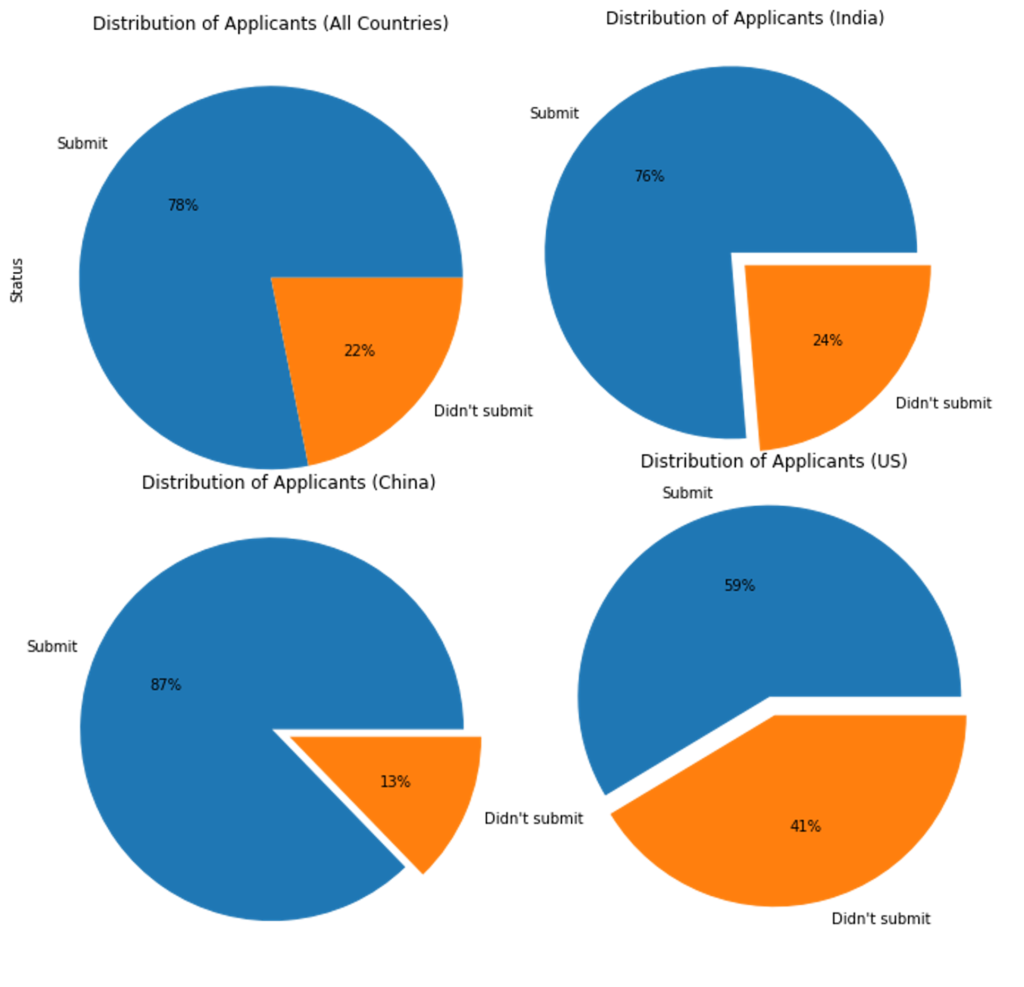 22% of applicants never submit their application.
41% of applicants from the United States did not finish their application, which is the highest in the three countries.
5. What other programs/schools  did  applicants  say  they  were  also  applying to?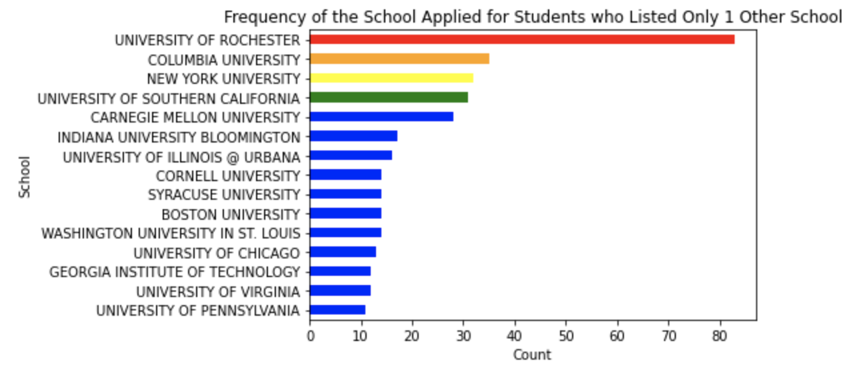 The most popular school is the University of Rochester. We suspect that this is due to the fact that students are applying to other departments, such as the Simon School of Business.
Other than the University of Rochester, the most frequently listed schools were Columbia University, New York University, and the University of Southern California.
6. Where do denied/waitlisted applicants go to if they don't get admitted to
Rochester? Where do our admitted applicants go when they don't choose Rochester?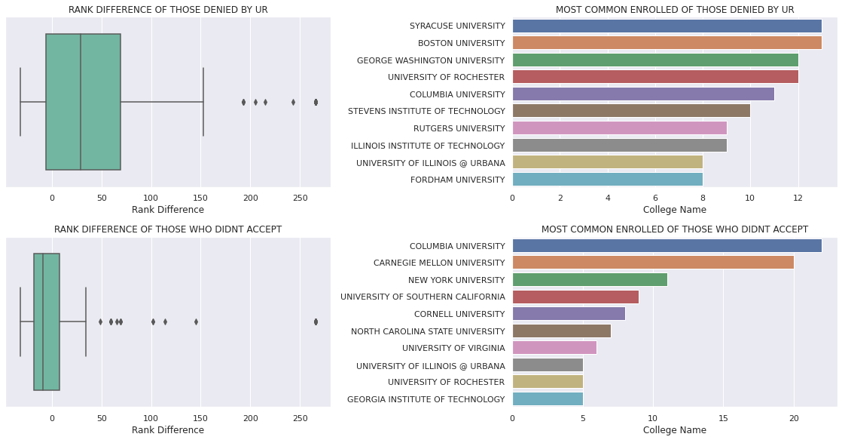 The difference between the average enrolled college rank of a student who was denied by University of Rochester versus one who was accepted but denied admittance is statistically significant.
Data Modelling
Goal: To predict if admitted students would accept our offer or not
Features
| | |
| --- | --- |
| Feature | Bin |
| Tuition Scholarship Percentage | No tuition, 20%-30% tuition, 40%-45% tuition, >45% tuition |
| Age at App. Submission | 18-22, 23-25, 26-30, >30 |
| Completion Time | 1-7 days, 8-14 days, 15-30 days, 31-49 days, >=50 days |
| GPA | <3.0, 3.0-3.5, 3.5-3.6, 3.6-3.7, >3.7 |
| Birth Country | US, INDIA, CHINA, OTHERS |
Methods: Decision Tree, Logistic, Naive Bayes, K-nearest Neighbours (KNN), and Random Forest
Results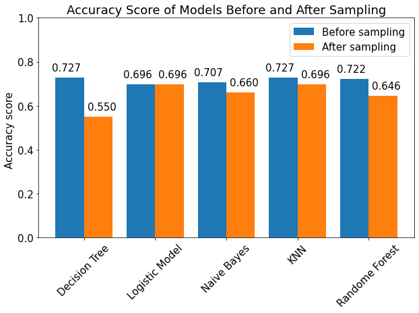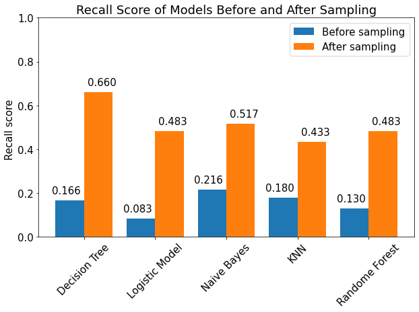 we used SMOTEENN to adjust the class distribution. It is clear that the recall scores significantly increased after sampling while the accuracy score declined a little. The accuracy score of Decision Tree decreased the most from 0.727 to 0.55, while its recall raised the most from 0.166 to 0.66.
Conclusions
There are submission peaks before the two deadlines. So we suggest reminding applicants to submit their applications before the deadlines, and don't need to remind people before holidays (Christmas and Lunar New Year) because there are actually no noticeable submission peaks during holidays.
American applicants tend to procrastinate and not submit their application compared to other groups. So we suggest urging American applicants to submit their applications.
A long completion day, defined as an application open for longer than fifty days, will most likely lead to a lower acceptance rate. So when considering if an applicant is qualified for the program, consider their academic background as well as their completion day.
Final Presentation